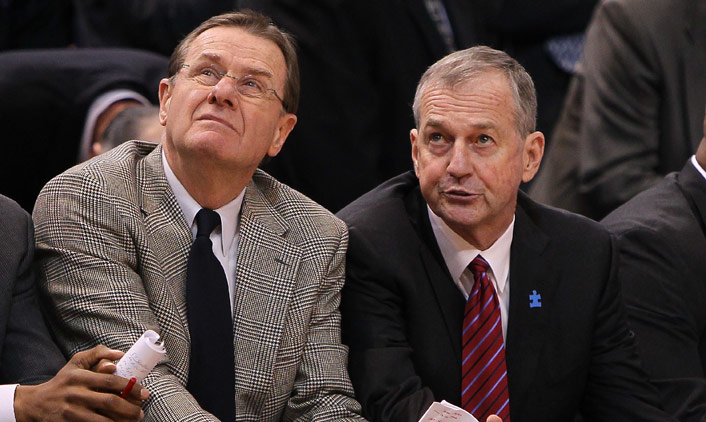 Jim Calhoun is 69 years old. He's already in the Hall of Fame, he's a national champion three times over, and he's sent more players to the NBA than all but a handful of coaches. When you look at his resume, he has nothing left to accomplish, which explains why he contemplated retirement this summer.

Instead, Calhoun returned for his 27th season at UConn. The last four months have been a disjointed, frustrating ride. His team, long on talent but short on experience, has been disappointing. And Calhoun has missed three games because of NCAA sanctions for recruiting violations, and he's missed three more because of spinal stenosis that doesn't appear to be getting better.

The last we heard, Calhoun was meeting with doctors in Boston and New York and surgery was discussed as a possibility.
Calhoun has been through several evaluations as doctors attempt to diagnose the specific cause of discomfort and determine the best course of treatment, according to UConn.
"I am happy that we seem to have located the problem and I am currently moving forward with treatment," Calhoun said in a statement. "We have to give that treatment time to see whether or not it is effective.
"I'm hoping by the middle of next week, we will have a much clearer picture of where we are and when I can look forward to getting back to doing what I do."
On Tuesday, the reported that Calhoun remained in New York for further evaluations. And UConn's assistant director of athletic communications Tweeted on Wednesday that Calhoun will miss at least the next three games.

"I speak to him every day," George Blaney, who will coach against DePaul on Wednesday, told the Hartford Courant. "He's still hurting. In fact, it sounds like the pain has intensified. … The players miss him and we all want him back here with us."

We mentioned on Monday that while Blaney had done an admirable job in Calhoun's absence (it's something he's done -- and done well -- over the years), Calhoun's style lends itself to getting the most out of his players, particularly those short on confidence or experience. This UConn team isn't lacking for playmakers, just leaders, and Calhoun would certainly help remedy that. As it stands, the team is reeling, 15-9 with just six games to go.

If nothing else, Calhoun's latest setback is just a reminder that there is more to life than basketball, even if that fact sometimes gets obscured by relatively silly things like shooting percentage, help-side defense or an efficient transition game.

For now, all the Huskies can do is to keep playing.

"Coach Blaney is doing a great job," Ryan Boatright said, according to the Courant, "Coach Miller, and K.O. (Kevin Ollie), all the coaches here know what they're doing. But coach Calhoun, he's like the backbone, when it comes to not doing something right … I mean, you all know what he's like!"

During his introductory press conference on Monday, the new athletic director, Warde Manuel, spoke specifically about the unenviable task of eventually having to replace Calhoun.
That day might be here sooner than any of us anticipated.