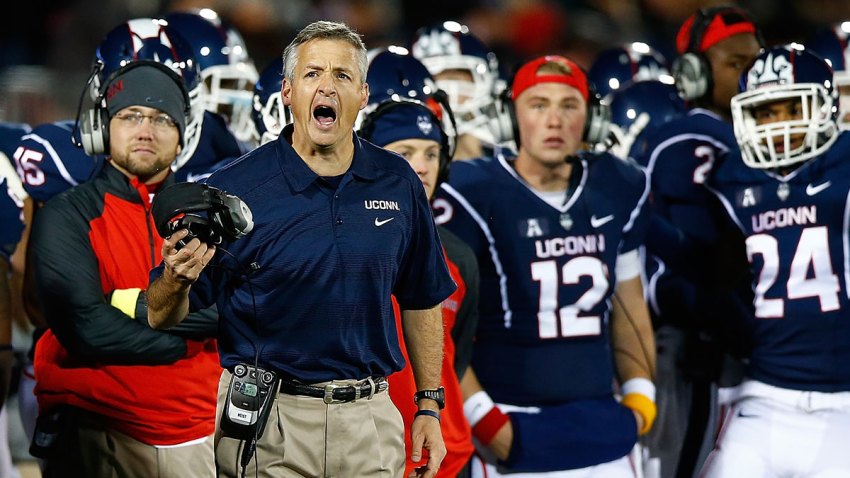 The opponents change but the results remain the same. For the eighth time in as many games, the Huskies came out on the losing end, this time a 31-10 blowout loss to No. 20 Louisville. UConn is now 0-8, four games removed from Paul Pasqualoni's removal and there's no sign that this team can put together a complete game.

True freshman Tim Boyle made his fourth start and his performance against Louisville looked much like the previous three. He finished 14-of-29 for 113 yards, with no touchdowns and three interceptions. Meanwhile, the running game continued to sputter, too; the running backs averaged three yards per carry and when you add a Deshon Foxx end around and six Boyle carries, that average drops to 1.8.

With four games left, interim coach T.J. Weist is running out of opportunities for UConn's first win -- and perhaps any chance he has of remaining in Storrs after the season. For now, Weist could consider benching Boyle, who has looked wholly overwhelmed in his starts and turning to redshirt freshman Casey Cochran, who replaced Boyle late in the game for the third straight time.

"It is always a thought," Weist said of a possible QB change (via the New Haven Register. "You say you are committed to him but I am not really committed to any player and keep him in the game no matter how he is playing. I think he has to do a better job throwing the football, handling the offense and he has to get better at it.

"We will re-evaluate it and we have to make some decisions on who our quarterback is and if we keep him there, we will look at the film and make the best decision for the team. I am watching film a couple times, I am going to meet with our staff. I am going to put pressure on him and the quarterback, really decide who is best for our team and who is the best quarterback. Tim has to show improvement, significant improvements every game for us to be patient with him. He has to be more efficient throwing the ball, handling the offense. We are going to evaluate that and see what is best for our team."

And Boyle knows he has to be better.

"I haven't done my job to the best of my ability in my four starts," he said. "We have played a lot of good teams since I have been starting and I don't look at the game and see what I did well, I see more what I didn't do well so I can try to fix it. Seeing defenses, seeing blitzes, seeing when I am hot and stuff like that is something I am really going to have to work on this next week. I don't see myself doing too much good out there which is a problem I am having right now and I need to fix."

It doesn't help that the offense is a mess, which was the case before either Weist or Boyle arrived on campus.

"I don't think it is confidence," Boyle continued. "It just comes down to me executing my job on every single play and I am not doing it as well as I should be and knowing I could be doing better. It is just me going week to week trying to fix that."

Perhaps this will pay long-term dividends. For now, the Huskies are the AAC's worst team and are in the running for one of the worst outfits in FBS.