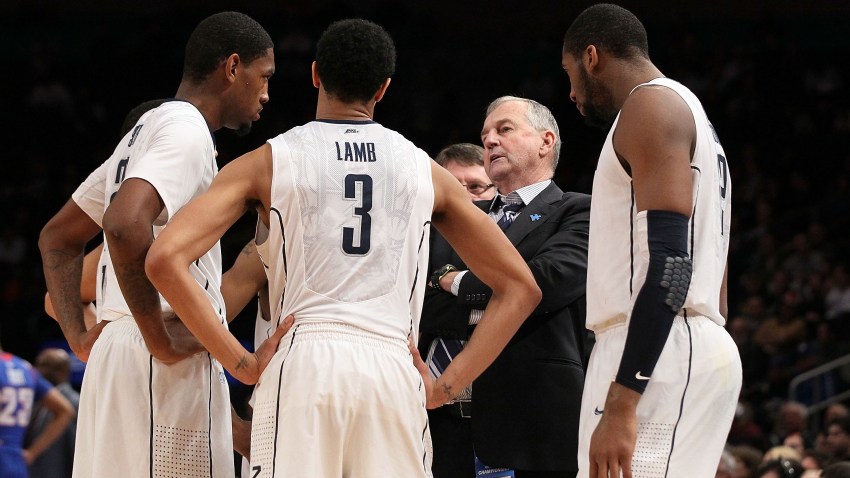 Unlike a year ago, when the Huskies and their fans were still enjoying the late-season run to a national title, there isn't much to celebrate in the aftermath of the 2011-12 season. And perhaps no news is good news given all that's happened in recent weeks.
Alex Oriakhi, Jeremy Lamb, Andre Drummond and Michael Bradley have all left the program. And while Jim Calhoun is expected to return, at 69, he won't coach forever.

There's also the NCAA sanctions that will keep UConn from participating in the 2013 postseason. The program has just one blue-chip high school recruit, Omar Calhoun, and earlier this week added depth with Holy Cross transfer R.J. Evans.
So what's next? Specifically, how do the Huskies maintain the program's national reputation even though it will be short of big-time players? After all, Calhoun has promised to leave the team in good shape when he finally decides to retire.

One short-term option to bridge the gap between next season, when UConn will be ineligible for the Big East and NCAA Tournaments, and beyond: junior college transfers. The best programs in the country use them -- some more than others -- and if the talent fits the team there are plenty of reasons to do it.

The Hartford Courant's Dom Amore responded to a reader inquiry regarding the matter in a recent Q & A post for his blog. His response:

"(T)he UConn coaches will certainly explore every option, but this one carries some risks. The NCAA's new academic standards include tougher requirements for JUCO transfers, so there will be only so many who carry the necessary grades to get in.

"Still, there would be a risk of bringing in a player who could hurt UConn's recovering APR situation. And to find a JUCO player with good grades and impact talent who would be willing to transfer to a school that is ineligible for The NCAA Tournament in 2013 would not be easy."

Amore notes, as the reader pointed out, that the junior college player still benefits by playing at a big-time program that plays in a big-time conference with plenty of national media exposure. That said, there are no easy answers for the Huskies.
Next season will be extremely difficult and Calhoun's biggest job might keeping his players motivated. Because while winning fixes everything, losing can tear a team apart.