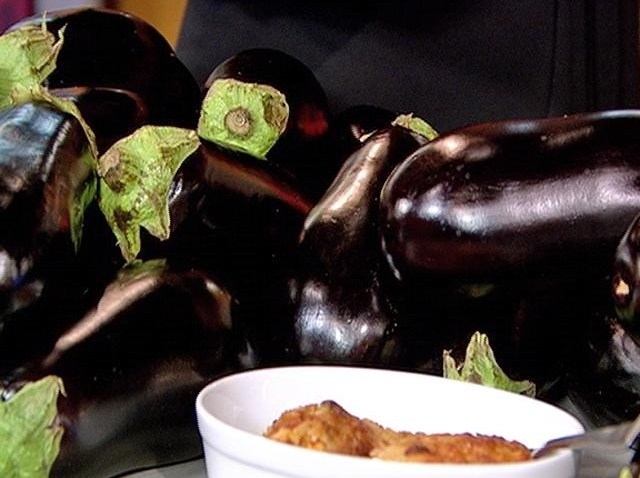 4 Large Eggplant Slices-peeled, sliced 1/3" thick
½ Cup All Purpose Flour
2 Eggs-beaten with 4 Tbsp. Water
1 ½ Cups Japanese Panko Bread Crumbs-or substitute any favorite breadcrumbs
¾ Cup Shredded Mozzarella
4 Large Heirloom Tomato Slices
8 Basil Leaves-torn
Olive Oil for Frying as needed
Salt and Black Pepper as needed
Lay the eggplant slices on a wire rack and sprinkle both sides generously with salt to remove excess water and promote less absorption of oil when cooking. Let sit for 30 minutes, rinse off and pat each slice very well with paper towels.
Dredge each eggplant slice in the flour, shaking off excess, then dip each in the egg mixture, letting excess drip off, then press each in the bread crumbs, coating both sides thoroughly.
Preheat oven to 400°f. Heat a saute pan on medium high heat. Add olive oil so that it is about 1/3 of the height of the breaded eggplant slices. The eggplant can be added when a few bread crumbs tossed into the oil sizzles moderately. Lay eggplant in and cook for about 30 seconds to 1 minute or until golden. Flip over and repeat. Drain on a rack.
Place eggplant slices on a greased cookie sheet, top each with the mozzarella. Place in the oven for about 5 minutes or until the cheese is melted and slightly golden. Top the cheese with a slice of fresh tomato, and sprinkle the top with the basil. Enjoy!