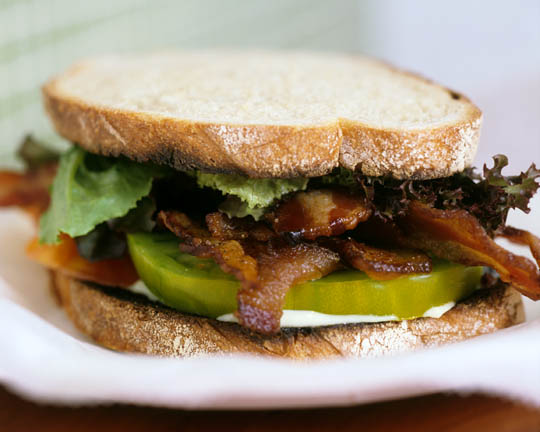 Green Tomato Slices-about 1/3" thick
1 Cup Buttermilk-add 1 Tbsp. of sugar if desired
1 Cup Corn Flour- use masa harina, available in the latin section of market
1/2 Cup Cake Flour-or substitute all purpose flour
8 Slices Bread-any favorite, toasted
½ Cup Mayonnaise-flavor with chopped chives if desired
1 ¼ Cups Lettuce-any favorite variety
12 Cooked Bacon Slices
As Needed, Vegetable Oil for Frying Tomatoes
Salt and Black Pepper to taste
Marinate tomato slices in the buttermilk for 15 minutes. Combine the corn and cake flour, mix well and place in shallow dish. Remove the tomatoes from the bowl, letting excess buttermilk drip off. Coat the tomatoes on both sides with the flour mixture, pressing gently to adhere, shaking off excess flour.
To fry, heat a saute pan on medium high heat with just enough vegetable oil to go halfway up the sides of the coated tomatoes. The oil is hot enough when a tomato is added, it gently sizzles. Do not cook too high or too low. Cook for about 1 ½ minutes on each side or until a light golden color. Drain in paper towels and season to taste with salt and black pepper. Reserve.
Assemble sandwiches with mayonnaise, lettuce, the fried green tomatoes and the bacon. Enjoy!