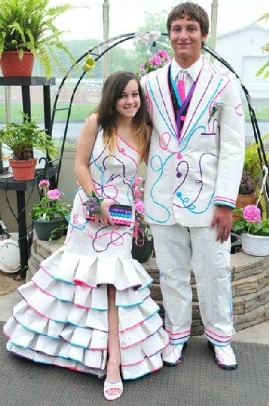 Two Connecticut natives won 2nd place in the 11th Annual Duck Brand Duct Tape "Stuck at Prom" scholarship contest.
Recent Portland High School graduate Alyssa Danielewicz who will be attending Roger Williams University in the fall, will receive a $3,000 scholarship for her duct tape ensemble.
The winners were revealed July 13, and Danielewicz and Fazzino were both shocked and excited about winning second place for the national contest. Duck Tape is giving $3,000 cash scholarship prizes to Danielewicz, Fazzino and Portland High School for their devotion to tape.
Danielewicz and her prom date Frankie Fazzino attended their May 6 prom dressed in hand-made, duct tape outfits. The couple says that, "this year we wanted to make prom a memory we would never forget, which is why we went in duct tape!" The creations took 165 hours to make, and were composed of 45 rolls of duct tapes including vibrant colored tape such as electric blue and funky flamingo. It was a lot of hard work, but so much fun!"
Danielewicz says that Fazzino doubted that the couple would make the top ten because of of the other great submissions. A panel of judges chose the top ten finalists, and made their decisions based on workmanship, originality, use of color, accessories, and use of duct tape. The top 10 finalists were then posted online for public voting. The three Contest Entries that receive the most online votes will be awarded the top 3 scholarships. The remaining seven couples were each awarded $500.