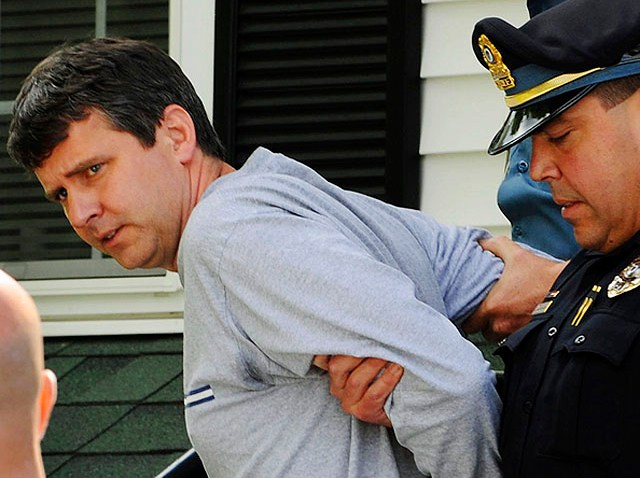 A former Avon man who is accused of killing his family left a note saying that he should have been "writing a book" about living with his wife's dysfunctional family instead of letting it fester "until one murderous night."
Details of the letter Thomas Mortimer IV wrote and left at the scene of a slaying in Winchester, Massachusetts contained in a nine-page statement of the case filed by prosecutors. The statement was made public Tuesday after The Associated Press and other media fought efforts by Mortimer's defense to have it impounded.
"I am ashamed, frightened, relieved, surprised that I murdered my family,'' he wrote. The Boston Globe reports that he penned this as he apparently prepared to try to commit suicide. "Looking forward to peace but already missing terribly Finn and Charlotte. That will be my 'hell.' ''
He went on, the Globe reports: "I know they are in a much better place than they ever could be living with Laura and living with me ... I think of the future and think of Finn or Charlotte being teased or bullied and my heart breaks. I can not think, of a more positive situation.''
The documents also say Mortimer's wife questioned him about a bounced check to the IRS hours before the slayings.
Mortimer is accused of fatally stabbing his wife, Laura Stone Mortimer, her mother and their two children in their Winchester home in June. The Avon, Conn., native has pleaded not guilty.
The Globe reports that Mortimer made a typed confession, saying: "What have I done? I hate myself more than ever. I now wish I accepted responsibilities for my actions, dealt with Laura maturally (sic) divorced her, and was a good role model for Finn and Charlotte. … Ultimately, I did these horrible things because I could not cope with the responsibilities I took upon myself. I was too cavalier with life, especially others lives. What I have done is extremely selfish and cowardly."
His attorney has said Mortimer has mental health issued and they might use and insanity defense.

Copyright AP - Associated Press