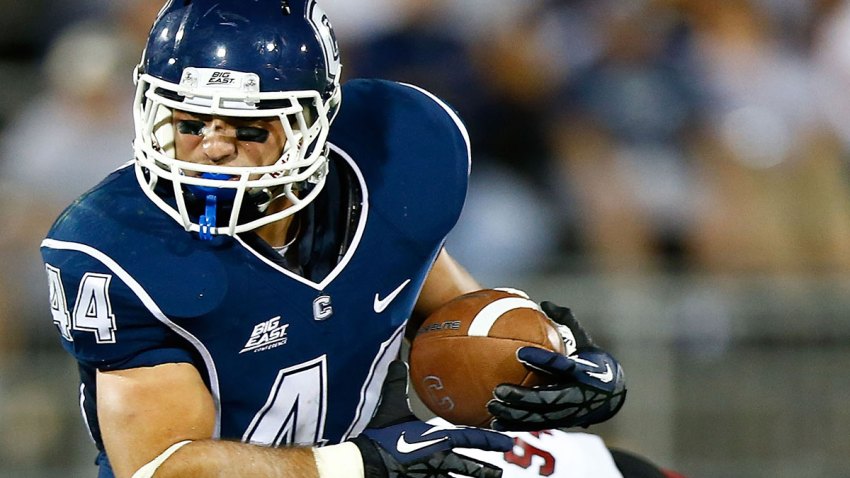 Ready or not, the season is upon us and the Huskies are about to find out exactly where they stand after three seasons of mediocrity. And ready or not, junior running back Max DeLorenzo, a backup since he arrived in Storrs, will be asked to carry the load, not only in the backfield, but as a team leader. Lucky for first-year coach Bob Diaco, DeLorenzo appears up to the challenge -- and then some.

"Max does all the jobs good," Diaco said, according to the Hartford Courant. "He's a leader. The players on the team respect him. He blocks. He has good, soft hands. He runs the ball hard. At this point, he's the most complete back of the four guys."

A young team with a new coach can never have enough leaders, but DeLorenzo will be counted on to carry the ball -- and do it well.

"Everyone seems to think I don't have speed, that I don't have any quickness," DeLorenzo said. "I can shock the defense that way."

The plan heading into the season opener against BYU Friday, is to feed DeLorenzo 10 times or so, and then spread the carries among the three other backs -- Josh Marriner, Ron Johnson and Arkeel Newsome -- none of whom have run the ball for the Huskies.
"If a guy becomes hard to tackle, we'll just keep giving it to him," Diaco said. "If a guy is not having the production, obviously we'll stop at that point. But we're going to give them all a good chance."
"Ron is a bigger type guy and has speed, too," DeLorenzo explained of his backfield mates. "Josh has a combo of speed and people might think he's not powerful because he's shorter, but he's one of the strongest guys pound for pound in the weight room. Arkeel brings that speed and elusiveness. I haven't seen one defender yet get a clean hit on him. He's slippery."

Diaco will need contributions from everybody if the Huskies are going to be successful this season. It starts with quarterback Casey Cochran, but a sound, consistent running game will go a long way in making Cochran's job that much easier.