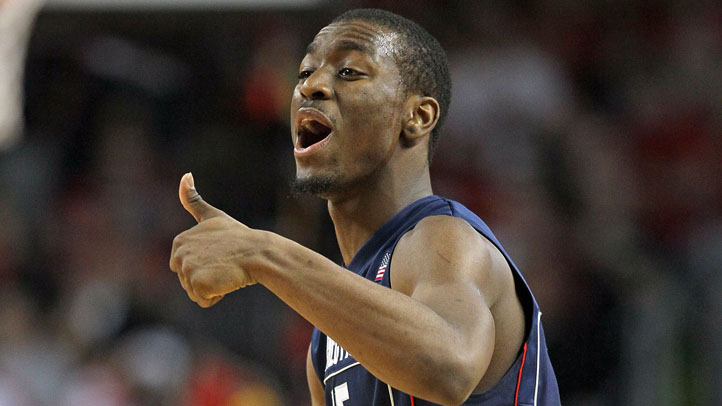 No. 3 UConn traveled nearly 3,000 miles for their Sweet 16 game. For their opponent, No. 2 San Diego State, it's a 100-mile bus ride up I-5. History shows that geography has a lot to do with how well a team performs in the NCAAs. Knowing that, proximity and a roster full of playmakers would appear to give the edge to the Aztecs.

Pretty sure these stats don't faze Kemba Walker one way or the other. And just to be sure, San Diego St. has no doubt devoted many hours to just how they plan to slow him down (because, really, he can't be stopped).

"I think it's going to take a group effort," guard D.J. Gay said. "He's a very good scorer, very good player. It's going to take more than one guy to slow him down. I don't know if we're going to stop him. But just like Fredette, try to contain him. We'll just have to make adjustments on the fly. We've never played them before. It's going to be a game of adjustments."

The Aztecs have had some practice facing off against score-from-everywhere-on-the-court guards. They played BYU's Jimmer Fredette three times this season and although Walker and Fredette are different types of scorers, that experience can't hurt.

"They're both big-time, big-time scorers," coach Steve Fisher said. "And hopefully having played Fredette will help us a little bit in terms of an initial thought process."

"Jimmer, he gets a couple steps past half court and he can shoot a 3 and it will go in," added SDSU forward Malcolm Thomas. "Kemba's more of a take-it-off-the-dribble, attack the basket. He has a variety of moves. I would say the difference is just penetration. Kemba penetrates more. They're both great players. We're going to do our best to contain him."

But the Aztecs aren't slouches. They are one of the most explosive teams in the tournament and coach Jim Calhoun certainly recognizes that.

"When it is all said and done and you take away the names sometimes on the front of our jerseys and you see guys get up and down, you see guys playing above the rim, you see guys making incredible athletic plays then you know they can be anybody," Calhoun said during a radio appearance Wednesday on WFAN.

"Steve Fisher has been around a little bit, national championship at Michigan, he had a couple of pretty good players in the Fab Five and this reminds me of, I will be very honest with you, maybe an older-type St. John's team, kind of like some Walter Berry-type players and that type of thing with the big athletes running. You are 100% right, no reason why they can't beat anybody."

Nothing like old-school Water Berry references to get you ready for a Sweet 16 match-up between two teams, each with players who can take over a game.

A lot has to go right for the Huskies Thursday but this team has reinvented itself the last two weeks. Plus there's this: President Obama likes UConn advancing to the Elite Eight.