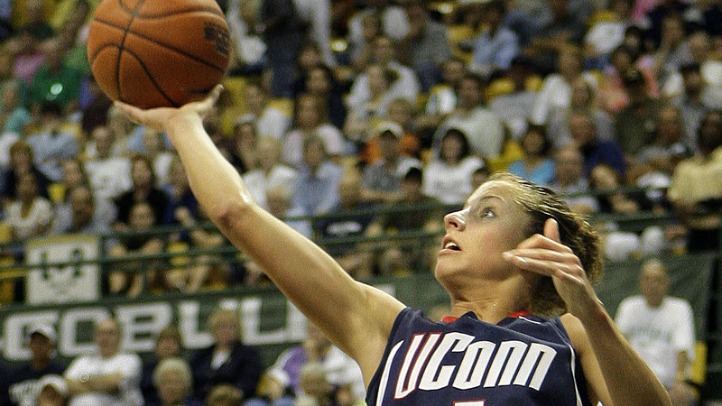 The UConn women's team played the first game of the regular season like it was another exhibition game. They rolled Holy Cross, 77-37, with Bria Hartley leading the way with 17 points. The biggest story of the evening, however, was the return of Caroline Doty, who missed the the 2010-11 season with an ACL injury.

The sharpshooting guard played 22 minutes, scored nine points and drained 3 of 5 three-pointers. But Sunday night was about more than the stat sheet for Doty. It was about getting back on the court, getting comfortable and beginning to trust her knee.

If there was any apprehension before the game, it was all but removed after the first few seconds of the first half when Doty crashed to the floor before popping right back up.

"She just about gave us all a heart attack," UConn freshmen Kaleena Mosqueda-Lewis said, according to the Hartford Courant.

Unlike Jim Calhoun, who was frustrated with the way his team rebounded on Friday against Columbia, Geno Auriemma was excited and proud at what Doty accomplished on Sunday evening.

"Every player should go through that experience of sitting on the bench and observing things for (a) long period, provided you know what you are looking for," Auriemma said about Doty.

"Her issue is that her focus has been so much on getting herself back on the court that she hasn't had a chance to show how much she has learned. Once she begins to feel good on the floor, that she doesn't have to worry about things, then what she has seen will happen on the floor.

"And that happened a lot Sunday. The things she says, the questions she asks are directly related to what she's heard. That's crucial because we don't have anyone like her."

As for the game, the Huskies held Holy Cross to 23 percent shooting and didn't allow one player to reach double-digits. UConn's talented freshman class -- Mosqueda-Lewis, Brianna Banks, Kiah Stokes -- contributed 13 points, 13 rebounds and four steals in 54 minutes of action.

As the Associated Press points out, UConn last lost at home in the 2007 Big East tournament championship game to Rutgers.