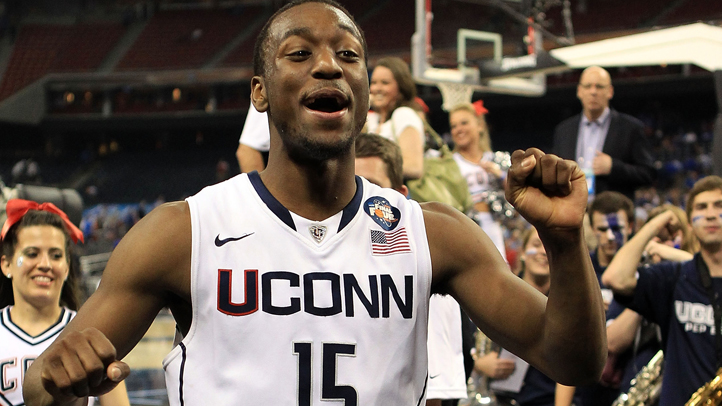 Today is the day that Kemba Walker's NBA career is expected to begin.
The point guard who led the UConn Huskies to win the national NCAA basketball championship this year has been getting a lot of national attention since that improbable win.
And the attention is likely to grow as he is one of the top prospects for the NBA
Walker spoke with Andy Katz of ESPN on Wednesday night about the likelihood that he would be a top 10 pick.
Walker has worked out for Charlotte, Detroit, Toronto, Sacramento and Utah, the Hartford Courant reports.
"Great workout for Utah wit @leezy3 and @jimmerfredette a few more but don't kno if they got twitter lol," Walker tweeted on June 15.
However, Katz warned, Walker could slide into the double digits. While that will be stressful for Team Kemba, there is an upside to that.
Walker's roots are in the Bronx and, Katz tweeted that Walker, if not picked seventh, could be around when the Knicks pick 17th, which would land Walker back at home.
Where Walker goes will be decided soon, but just being an NBA prospect is raising the local player's profile.
Check out his Best Buy commercial.
There is also a DJ Skee Kemba Walker "EZ Pass" mix that you can download. It includes music "inspired by and inspiring to" Walker. After today, we're likely to see a lot more of Kemba.