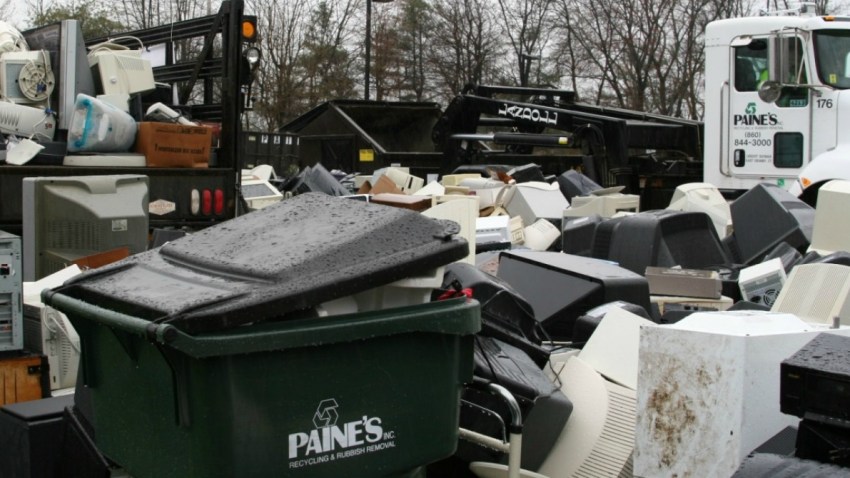 Each year, 20 to 50 million metric tons of electronic products are thrown away into landfills or incinerators. This releases harmful toxic chemicals which threaten the health of humans and the environment.

Instead of throwing out your old or unused electronics, let's recycle them!

Join Comcast and NBC Connecticut for the 2015 Comcast Cares Day Electronic Recycling Drive on Sat., April 25 from 9.a.m to 1 p.m. The event will be held at the Sears parking lot at Corbin's Corner in West Hartford.

The below items will be accepted by Green Monster E cycling.
CRT Monitors, LCD's, Terminals, & Flat Panel TV's
Computers, Laptops, Mainframes, Network Boxes, Cable Boxes
Modems, Routers, Hubs, Switches, Disk Drive Arrays
Printers, Copiers, Scanners, Typewriters, Plotters
Radio, VCR, Amplifiers, Mixers, Tape Decks
Cell Phones, Telephones & Telephone Systems
Rechargeable Batteries Lithium
Lead Acid Batteries (Car Batteries, UPS Battery Backup Units)
All Wire / Cables, Keyboards, Mice, Desktop Speakers
Testing Equipment, Lab Equipment, and Medical Equipment

The below items will not be accepted at this time.
Fluorescent Lamps
Glass
Hazardous Waste / Household Chemicals Of Any Kind – Oil, Paint, Lawn & Garden
Chemicals
Together we can make change happen by starting in our community!
To learn more about the event or to register as a volunteer, click here.
To learn more about Green Monster e-Cycling click here.