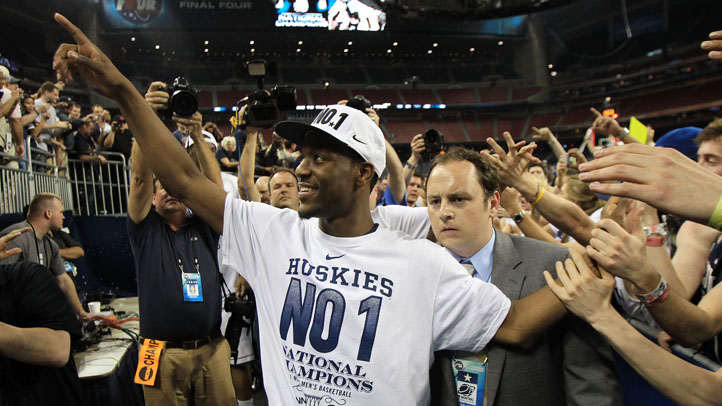 The weeks and months leading up to the NBA Draft aren't met with the same media saturation and fanaticism as the NFL's version, primarily because the college basketball season ends in April, players announce their professional intentions a few weeks later, the NBA postseason carries us through June. And then, before you know, the draft is here.

The NFL is nearly three months into the off-season before the draft takes place, and there is plenty of time (some might say too much) to analyze every player from every angle and to have everybody with an opinion weigh in. It speaks to the popularity of professional football in this country. Still, there is something to be said for the NBA's less sensationalized take. It's less about putting on a show and more about, you know, teams drafting players.

Either way, come June 23, 60 players will hear their names called. And former UConn Husky Kemba Walker should be among the first to go. His stock rose steadily during the college basketball season and in his final 11 games -- all wins, leading UConn to an unlikely Big East Conference title and then an even less likely national championship -- it sky-rocketed. Walker is now considered the second-best point guard in the draft after Duke's Kyrie Irving.

Last Thursday, ESPN.com's Chad Ford released his first 2011 mock draft and he had Walker going to the Sacramento Kings at No. 5.

"The Kings have finally come to two realizations in the past year," Ford wrote. "One, Tyreke Evans isn't a point guard. Two, character and leadership matter. Enter Walker. Not only does he play the right position, but no one in college basketball showed more heart, leadership or a desire to win than Kemba this past season. He has his weaknesses, but he should give the Kings something they really haven't had in a while -- a winner."

It's hard to dispute Ford's last two sentences; it's sounds like a cliche but in this instance it's true: Walker carried the Huskies for much of last season, until the young players found their niches down the stretch. Without Walker UConn might have won 10 games.

Tom Ziller, the man behind the SB Nation Kings blog Sactown Royalty, writes that "none of Ford's testimony is necessarily true," adding:
The Kings certainly haven't announced that Evans will not play point guard going forward, given that 'Reke played with Marcus Thornton (a true shooting guard) a lot in the final weeks of the season, with Beno Udrih on the bench. I'll also note that it's unclear Walker will be any more of a point guard than Evans is.

But that said, while I'm not completely sold Walker can translate to the NBA in terms of a high-usage guard, it's a solid pick that would seem to have a serious chance of coming true. The Kings have said they need another guard, and Walker's the No. 2 guard on the board behind Kyrie Irving.
That's been the issue with Walker: that his college game might not be well suited for the NBA. It's a legit concern, especially with such a high draft pick. The Sactown Royalty commenters do a solid job of breaking down Kemba's strengths and weaknesses, although every time we hear someone question his potential we immediately hear his mother's words:

"…With Kemba, it's like every two or three years he spurts. Give him two years in the NBA and you are all going to be like, 'Is that the same Kemba that went to UConn?' He's going to do something different that you're not going to believe."

And after watching what Walker did for the Huskies last season, we believe her.