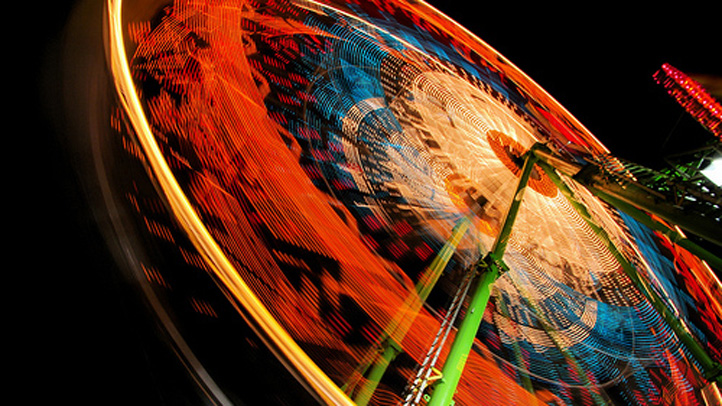 Summer is coming to an end and kids are headed back to school, so that means it's fair season in Connecticut.

Agricultural fairs have been a big part of the state's history for two centuries. Most of the state's major fairs offer rides, games and entertainment as well as food, commercial exhibits and competitions in livestock, fruits, vegetables, baked goods and crafts.

Just across the state line in West Springfield, Mass., is the granddaddy of all agricultural fairs -- The Big E (Sept. 14-Sept. 30). The Eastern States Exposition (its full name) has hundreds of livestock and other exhibits. Families can enjoy carnival rides, games and some of the most decadent food around. Connecticut Day is Sept. 19. There are plenty of shows, as well as concerts from Hot Chelle Rae, Jeff Dunham and country superstar Alan Jackson.
The
(Sept. 27-Sept. 30) is the state's largest agricultural fair. In addition to the rides, games and exhibits, the Durham Fair has landed a music legend as its entertainment this year. Kenny Rogers will perform Friday, Sept. 28. From "The Gambler" to "Islands in the Stream" and "Lady", Rogers is responsible for some of the greatest country songs of all time. Kellie Pickler performs Saturday, Sept. 29. The Durham Fair is also home to the largest pumpkin ever grown in Connecticut. The
weighed in at just over 1,487 pounds. Will someone break the record this year?
The Berlin Fair (Oct. 5-Oct. 7) includes all the food, games, rides and fun that you would expect from the annual festival. This year's fair also includes a concert from country stars Diamond Rio.
The 156th Harwinton Fair (Oct. 6-Oct. 7) brings fun to the Litchfield Hills. This year's fair includes a skillet toss, pig races, an antique tractor exhibit and more.
The Portland Fair (Oct. 12-Oct. 14) offers rides, games, food and music. Fair goers can check out dozens of exhibits.
The Southington Apple Harvest Festival (Sept. 28-30 and Oct. 5-7) is famous for the apple fritters and competitions. During the bed races, teams race beds through the center of town. There are also apple pie and apple fritter eating competitions.
For a list of other district and grange fairs, click here.