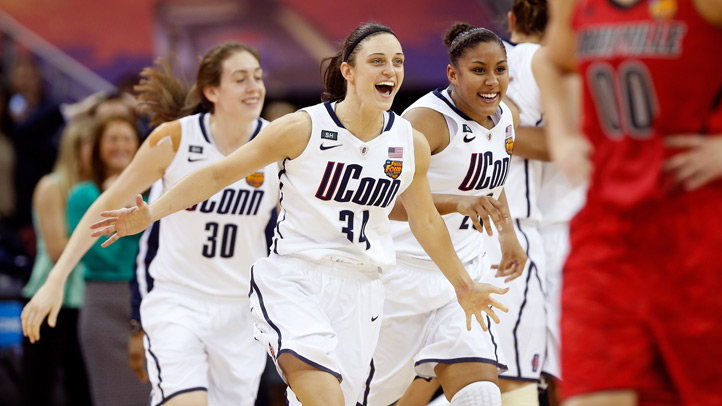 Geno Auriemma has his favorites and Kelly Faris certainly qualifies. Back in January, the coach made a case for his senior as an All-American candidate

"It goes way beyond the numbers," Auriemma said at the time. "Some people just impact the game in such a way that the numbers only tell not even half the story. That's what Kelly is."

And after the Huskies won their eighth national title under Auriemma, the coach remained effusive in his praise of Faris.

"She deserves this championship because she competes for a national championship every day in everything she does," he said. "I'm really, really happy for her."

And Auriemma can continue to be happy for Faris because now she's headed to the WNBA Draft. According to SNY.com's Carl Adamec, Faris, along with 10 other top college seniors, is headed to ESPN headquarters in Bristol, CT for the draft.

Other invitees include: Alex Bentley (Penn State), Kelsey Bone (Texas A&M), Elena Delle Donne (Delaware), Skylar Diggins (Notre Dame), Brittney Griner (Baylor), Tianna Hawkins (Maryland), Tayler Hill (Ohio State), Lindsey Moore (Nebraska), Sugar Rodgers (Georgetown), and Toni Young (Oklahoma State).

Griner, Dell Donne and Diggins are expected to be the top three selections.

Faris' list of accomplishments at UConn are long and distinguished. Details via Adamec:
The Plainfield, Ind., native was named to the all-Big East second team, the Big East Defensive Player of the Year, and shared the Big East Most Improved Player award with DePaul's Brittany Hrynko. She was an Associated Press honorable mention All-American pick.

She was also chosen to the NCAA Bridgeport Regional all-tournament team as well as the all-Final Four team. In Tuesday's 93-60 win over Louisville at New Orleans Arena, she had 16 points, nine rebounds, and six assists to go along with a solid defensive effort against Cardinals' leading scorer Shoni Schimmel.

Faris finished her college career 34th at UConn in scoring (1,109 points), 11th in rebounds (821), sixth in assists (545), and fifth in steals (294). The only other UConn player to end their career with 1,000 points, 750 rebounds, 500 assists, and 250 steals is three-time Wade Trophy winner Maya Moore.
Former UConn great Maya Moore was the first-overall pick in 2011, and Tiffany Hayes was a second-rounder a year ago.