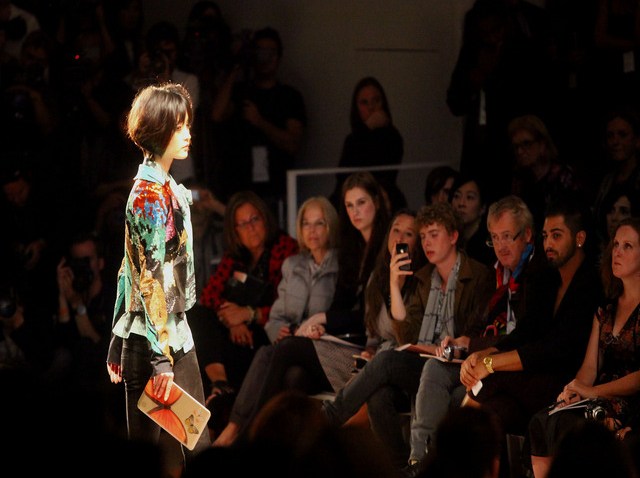 PRESENTING.... We stopped over at Susan Woo's Hudson Hotel garden demonstration, where instead of peonies and lilacs, she painted the greens with party dresses and chic little jackets. Woo's collection, inspired by Faye Dunaway in "Bonnie and Clyde," was made with the socialite set in mind, which works out well since that was her target demographic, not to mention her circle of friends. Jeweled collars, sheer seams, and cinched silk lounge-wear in bold violets, blues, and grays, popped against their lush garden terrace backdrop, making us shed a tear for the seasons we were leaving behind and the clothes we can't have until next season.

BESPOKEN, NO JOKIN... We decided to take one for the guys and stop by the Museum of Arts & Design in Columbus Circle to see the Bespoken presentation. We liked the sharp details, like Peter Pan and wing collars, red socks peeping under cuffed jeans and a plethora of silk skinny ties. Also, we suspect the conversing stripe jacket and the double-breasted suit will be making an appearance on Chuck Bass, soon rather than later, so we can only wonder... what will Blair's matching outfit be?

DRUG-STORE DELIGHTS... We were invited to Robert Verdi's Survival of the Chicest, a getaway between the Tents and Milk Studios for fashion mavens and McMullan darlings to blog and tweet, snack on salads, and indulge in the latest beauty trends. CVS is amping up their luxe status by sponsoring the Reinventing Beauty Lounge this season; showing off their drug store goodies that rival - not only in price point, but also in quality - their department store competitors. We were pampered and powdered by CoverGirl via Jake Bailey and painted over by Sally Hansen, with the chameleon color they created especially for Tracy Reese's SS'10 Collection. Our full tip sheet from the Luxe Lab and Beauty Lounge, soon to come.

SEASIDE SPIES... We first fell in love with her eyewear, then her clothes, and now we have quite the crush on the absolutely gorgeous and lovely New Zealand-born designer, Karen Walker. We chatted with her after her show, which was a mix between psychedelic and preppy (a combination we see less often than we'd actually like to) Walker's SS'10 "The Village" collection, was inspired by 60's TV show called "The Prisoner." With a boat shoe collaboration with Pointer, paired with vibrant paisleys and plentiful piping, we feel quite at home in the hallucinogenic-thick spy smuggling operation with the cast of The Prisoner, because of course, this is paradise.

TAM & RALPH... There was no absence of drama at Chado Ralph Rucci, with Andre Leon Talley and Martha Stewart in the front row. Silk-screened ghastly girls and peeking sequined panels took on evening wear, while safe separates and tea-length sheathes were reserved for the ladies that lunched, and sat front row. Traditional gift bags were rare and sparse this season, as designers cut down on costs, but Vivienne Tam treated her A-listers to her latest fashion accessory: An HP Mini "Digital Clutch," designed to compliment her SS'10 Collection. As a blogger, something felt so right about this collaboration, as we watched floaty butterfly-embossed Astor-neck tops and maxi dresses strut down the runway, while gripping tight on their matching butterfly-embossed computer "clutches." Clearly, we can only assume this was our fashion influence of the season.