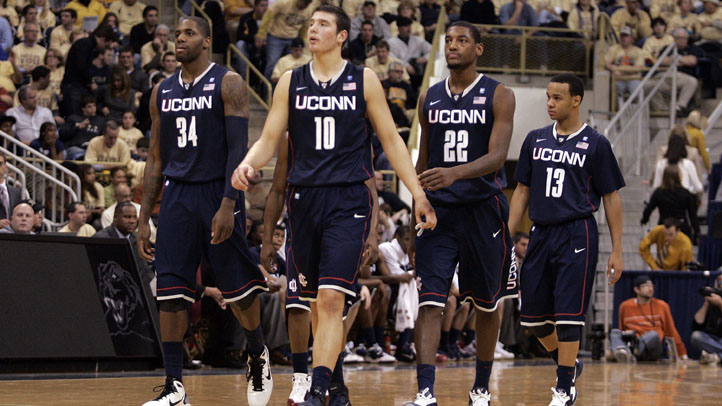 We glimpsed the future on Saturday. It lasted for just a half -- the first half -- and the final 20 minutes of the Huskies' final regular-season game unfolded like many before it this year: inconsistent perimeter shooting, not much of a presence in the paint and suspect rebounding. But if recent weeks are any indication, we can expect a lot from Jeremy Lamb, Shabazz Napier and Roscoe Smith in 2011-2012. In the meantime, the Huskies are Kemba Walker -- and everybody else.

Walker, who was honored before the game with UConn seniors because there's a good chance he will take his skills to the NBA, did what he always does: score a ton of points, play even more minutes and keep UConn in it till the end. By the time it was over, Walker had 34 points and the Huskies had lost another close game, this time to Notre Dame, 70-67.

The day started well enough. Earlier, Louisville lost in West Virginia, which meant that a win over Notre Dame would guarantee UConn a top-8 finish in the Big East, and more importantly, the first-round conference tournament bye that came with it.

Even midway through the second half, UConn's chances looked promising. When Ben Hansbrough, the Fighting Irish's best player, fouled out with more than eight minutes to go, Notre Dame led 60-52. Walker promptly scored seven straight points and by the time it was over, UConn had reeled off 15 in a row to take a 65-60 lead.

If college halves were 16 minutes instead of 20, the Huskies would be celebrating their 22nd win of the season. Instead, the Fighting Irish broke their scoreless drought with 3:55 remaining and then reeled off nine more points before UConn could answer. By then it was too late.

So the Huskies limp into the playoffs, literally and figuratively. The team has lost seven of 11 and Walker has averaged 40 minutes of playing time in UConn's last six games. The Big East is arguably the most physical conference in the country. It's perfectly reasonable to expect Walker to feel the effects of 30 games worth of punishment.

But it's the same for every other Big East team, too. And coach Jim Calhoun, as he's preached, well, forever thinks it all comes down to defense.

"I don't think we played bad, by the way," Calhoun said. "Offensively, we missed a ton of shots. So my answer over the years, and one of the first principles that I develop, play better defense. Our defense wasn't very good. Mainly because they could go through the post anytime they wanted to. And that puts so much more pressure on you."

Calhoun continued: "As good as Kemba was, and he was great, unfortunately he was our leading rebounder. And that probably tells you more than any other thing you need to know in this basketball game. That there were so many opportunities for us, guys looking at the ball and not getting rebounds, greatly hurt us."

Before joking (we think): "It's only getting worse for us right now. Maybe I'll start Donnell [Beverly] at the [center] next game, or something. Just somebody who can grab a rebound."

Frustrations and growing pains go hand in hand when you field a team of long on youth and short on experience. But UConn doesn't have time to bemoan its plight, particularly since it finished ninth in the Big East, which means it will be playing No. 16 DePaul Tuesday at noon in the first round of the tournament.

Saturday's loss isn't how you want to finish the regular season but there's no time for UConn to feel sorry for itself. Plus, if the last few games are any indication, this team is very close to putting it all together. Now seems like as good a time as any.