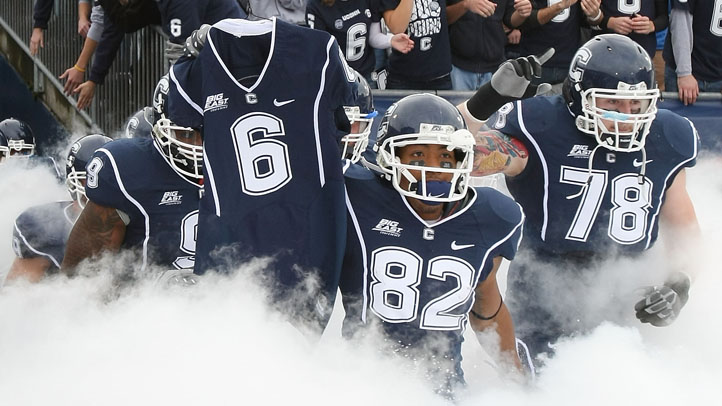 It's not all unicorns and rainbows for the UConn athletic department. Yes, the baseball team is in the super regional right now, and the basketball teams are in great shape for next fall. But the football team … well, they have some work to do.

There are huge question marks in the offensive backfield, and the Mike Smith, the leading receiver a year ago, is academically ineligible for 2011.

Those concerns go a long way in explaining last week's Big East power ranking published by ESPN.com's Big East blogger Andrea Adelson. West Virginia is the early favorite in the conference, which isn't altogether surprising. At the other end of the spectrum, the Huskies are next to last, besting only Rutgers.

Adelson explains the low ranking: "I know, I know. How can I downgrade the league's BCS representative to No. 7? I just have too many questions on offense. The Huskies will not return their leading passer, rusher or receiver from a year ago, and they have a new coach and new coordinators. However, the defense and special teams will be solid, so there is a chance they can win without doing much on offense the way they did last year."

We've been beating the same drum this spring, too, but are the issues Adelson cites overblown? In a recent mailbag column devoted to her power rankings, Huskies-lovin' readers sounded off. Ken from Connecticut makes a good point, even if he's wearing his national-flag-blue-tinted glasses while doing so.
Ken: …I think you are overestimating UConn's losses on offense for two reasons. One, it's not like [Zach] Frazer and Smith were Montana and Rice, they were mediocre at best, and probably the worst starting QB/WR combo in the league. The replacements should put up at least the same numbers. Two, RB is the easiest position on the field to replace, and its not like UConn hasn't had to do this before. Lastly, [former head coach Randy] Edsall only had three plays that he allowed the OC to call: Todman left, Todman right, and one pass play so predictable that the QB was bound to fail.
Looking at the Huskies' offense with Ken's glass-half-full approach makes the 2011 season seem much less daunting. And maybe he's right; UConn has never been an offensive juggernaut, and from one year to the next maybe all that changes are the names.
That said -- and we've pointed this out countless times already -- the Huskies' fate will rest with their defense. If it plays well, UConn will have a chance to win; if it falters, it will be a long year.