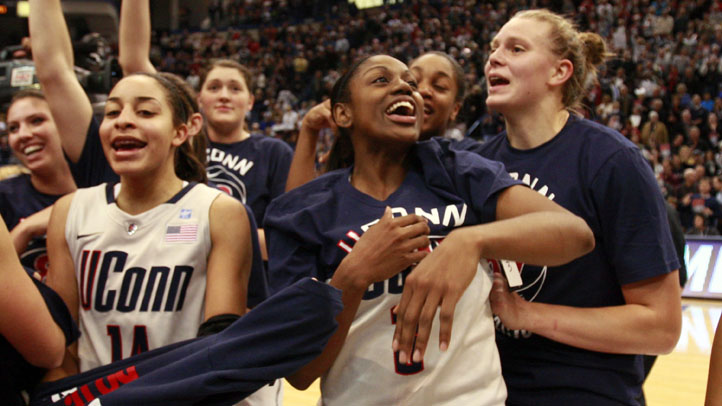 Clearly, there are differences between the UConn men's and women's basketball teams. Their rankings in the national polls, their seedings in the NCAA Tournament, and their history. But there are similarities, too. Both won the 2011 Big East Conference Tournament (the men in more dramatic fashion than the women) and each team has relied on freshmen to get them to this point.

Their collective success has been quite remarkable, really.
The UConn women are led by Maya Moore. There is no disputing this. But freshman point guard Bria Hartley and freshman center Stefanie Dolson have been invaluable, too. Hartley has started 30 of 34 games, averaging 12.4 points, 3.7 rebounds and 2.7 assists. Dolson's numbers: 32 starts, 10.3 points, 5.9 rebounds, 1.6 assists.

After defeating Hartford in the opening round of the NCAA Tournament Sunday, coach Geno Auriemma heaped praise on his young players, and Dolson in particular.
"Stefanie is probably our most impactful player from January to today -- the other guys are knowns -- but her progress has impacted our team more than any other single factor," Auriemma said. "[Her presence has] given us an inside-outside game -- we were primarily a perimeter team and we have since become more balanced."

There's another name to add to the list of contributing freshman: Michala Johnson, who came off the bench early in the second half against Hartford, played 14 minutes, scored five points and grabbed five rebounds.

"I was very excited with how I played (Sunday)," Johnson said, according to the Norwich Bulletin. "I rarely play a lot in the games, but I'm proud of myself."

Johnson suffered two ACL injuries in high school and played in just 19 games as a senior. As she continues to work herself back into the action, Auriemma spoke about her potential.

"You watch her and when the shot goes up she goes after every offensive rebound," he said. "She finishes around the basket probably as good as Stefanie. She has a knack for finishing around the basket. Who knows down the road what could happen. If she keeps getting stronger and keeps working and keeps doing her exercises, she could turn out to be a really good player for us."

The Huskies have played much of the season rotating six or seven players. With Johnson angling for more playing time and the return of Heather Buck, UConn's bench is suddenly a lot deeper. Buck, who missed five games with a foot injury, returned to the floor against Hartford, played seven minutes, snagged two rebounds and converted the only shot she took, a put-back layup.

"It was hard to sit and watch, so I couldn't wait to get out there again," Buck said. "There was one game during the Big East (tournament) where when we were in line right before we run out, I was in line and forgot to step to the side and started to go out. I took one step and was like, 'Wait, you have a boot on and dress pants.' "

Now Buck is fully cleared to play and she, along with Johnson, will only make the Huskies that much tougher to beat. This must be a frightening thought for opponents.