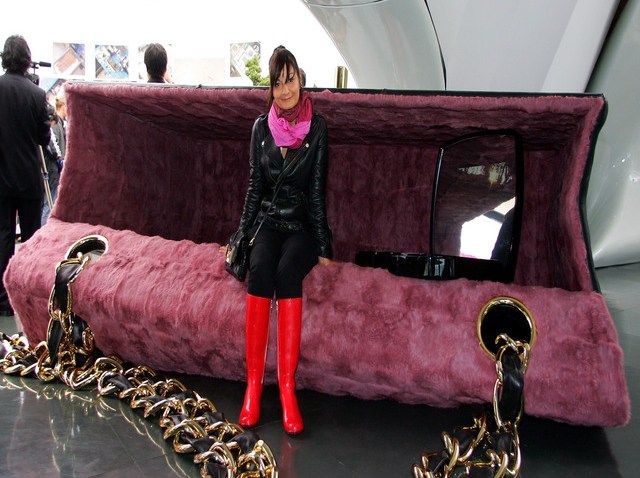 We don't know what we're more excited about this week -- the Olsens bartending at Barneys for Anna Wintour's highly ambitious Fashion's Night Out on Thursday or tucking into the tents to chat with Vivienne Tam or Ideeli's fabulous blogger event. Either way, we know SS10 Fashion Week will keep on our toes and living out of our handbags - literally. But lucky for us, we have some fierce handbags.

THE TRIBUTE BAG: We'll be chatting backstage with the artists from Tarte, as they paint faces at the Hayden-Harnett show on Thursday, grabbing tips on how to achieve the looks to compliment their lust-worthy leather and lace collection for Spring 2010. But we still can't get enough of their Fall 2009 handbag collection, especially their slouchy sweet Yves hobo ($498) - which, yes, is named in honor of the late great. Find Hayden-Harnett at Anthropologie, in Westport and Manchester or order online.

A NEW TAKE ON TIMELESS: Whether they're channeling Chanel with chain-link or Tom Ford's slouchy hobos for YSL, Monserat De Lucca has a way of re-working classics into worn-in clutches and totes that are ready to breathe fresh air into your wardrobe. We like the Artacho satchel, reminiscent of our favorite Miu Miu's with double length handles in a "Brady Bunch" palette that would make Michael Kors cringe (but we secretly love it). Find Artacho at Tracy B in New Haven.

A ROSE BY ANY OTHER NAME: We can't say we're entirely crazy about the designer collaborations for Payless craze, but we have to admit we love this structured little bag by Lela Rose. We'll be soaking in some runway styles by Ms. Rose this weekend, and we may be toting this chain strapped envelope clutch to more than one show and into the night. And for under $30, we have to say it is most certainly a steal.