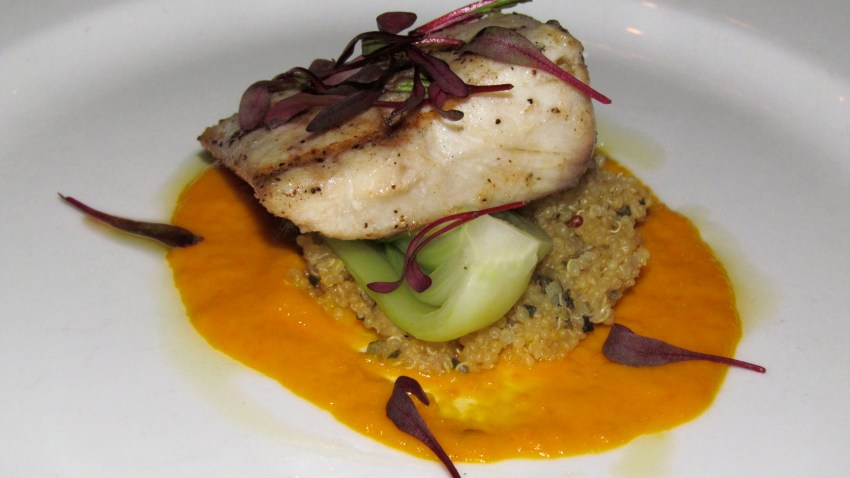 ½ cup diced fresh pineapple
¼ cup diced red onion
¼ cup seeded and diced plum tomato
1½ teaspoons minced jalapeữo pepper
1½ teaspoons chopped fresh cilantro
1/8 teaspoon salt
1/8 teaspoon freshly ground black pepper
Vegetable oil cooking spray, for the grill rack
¼ cup extra-virgin olive oil
1 teaspoon seasoned salt
Four 8- to 10-ounce pieces sea bass or similar flaky, white fish such as grouper, cod or halibut, each 1½- to 2-inches thick
In a small bowl, gently stir together the pineapple, red onion, tomato, jalapeno pepper, cilantro, salt, and pepper. Cover and refrigerate for at least 1 hour and up to 3 hours to allow the flavors to blend.
Prepare a charcoal or gas grill and position a rack about 4 inches from the heating element. Before igniting the grill, lightly spray the grill rack with vegetable oil spray. The coals should be medium hot for the charcoal grill. The burners should be on medium-high for the gas grill.
In a shallow plate or pie dish, whisk together the olive oil and seasoned salt. Dip each fillet in the oil and turn to coat. Grill for 3 to 5 minutes, depending on the thickness of the fish. Carefully turn and cook the other side for 3 to 5 minutes longer or until the fish is cooked all the way through and flakes.
To serve, spoon about ¼ cup of the chutney over each piece of bass.