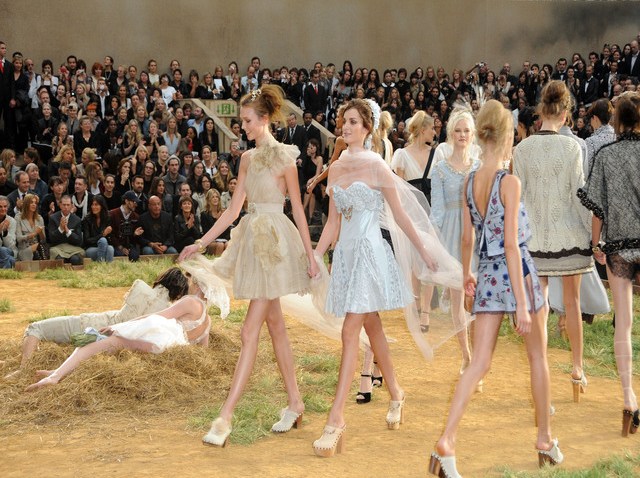 Halloween should be more than just spandex, sparkles and Spanx. If you, like us, have chosen to opt out of fashion-less flammable costumes made of acrylic and polyester this year and instead take your inspiration from the original makers of fantasy -- the runway looks that walked in Paris this past week. When looking for an optional look for October 31, here are our suggestions:
CHANEL'S FARM FRESH FISH OUT OF WATER
We love the idea of a transplant socialite among country bumpkins, especially when Lilly Allen is singing our theme song. We say, Lisa Douglas, Eva Gabor's character on Green Acres. So an elegant Chanel scarecrow might be all the rage this year, but we only prefer the hoedown look when Karl's on our side.

Suggestions? Natural hair decor, twine and rope braided with shreds of lace and silk. Structured crew-neck jackets and romantic frocks, tiered and trimmed with ornate woven raffia, crocheted crochet, and sun-soaked neutral tweeds. Embellish with bare feet, organza bonnets with a Boston Brahmin drawl.

DIOR'S GAL FRIDAY
Detective darlings have all the fun. They might not do all the sleuthing on their own, but they always have a fierce wardrobe and pouty lips to do their own share of damage. Veronica Lake hair and ruby red lips were a traditional pairing for John Galliano's femme fatale collection, but the show only felt truly complete with his own starring role as the dastardly detective.

Suggestions? An alligator briefcase and sequined chiffon cocktail pinafores with peek-a-boo panels. A tailored trench that snips at the hip and sheer anklets and of course, a secret you just can't keep.

BALMAIN'S CALL OF THE WILD
We can't wait for the release of Where the Wild Things and while the Opening Ceremony released a line of clothing/costumes inspired by the children's book, we'd prefer to be decked out in Balmain's frisky forest-friendly collection instead. Something like Peter Pan's army of Lost Boys or one of Robin Hood's pack of Merry Men. But more coy, of course.

Suggestions? Liquid rusty metallics and dusty suede with flecks of shimmering dimension. Raw and ragged hemlines and hand-me-down armor silhouettes, with stamping lace-up stilettos. Weapon of choice? Wind tussled hair and hip flask.

MCQUEEN'S CLOSE ENCOUNTERS
Alexander McQueen took reality to a new level, giving fans across the world a live video feed of the show while camera cranes terrorized fashion go-ers in the live audience. It went along quite nicely with the futuristic approach of the collection, with washed out and luminescent makeup and duet beehives perched on every model's head. So if this is what they've been wearing across the galaxy, we'd like to be abducted, please.

Suggestions? Structured pieces made of foil and felt with dramatic necklines and extraterrestrial tribal prints, with nothing below the knee and two choices of color - rainbow or grey. The world's most painful heels and an eerie center stare complete the look. This abduction's accessory? The handicam, of course.