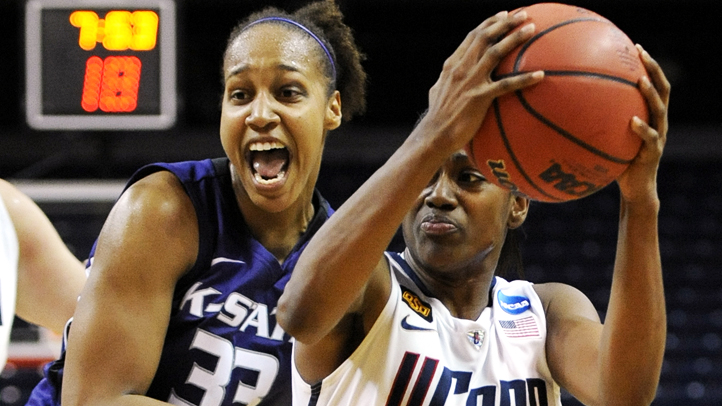 Tiffany Hayes was expected to be a late first-round pick in Monday's WNBA Draft.
She ended up going early in the second round to the Atlanta Dream. It's a far cry from last year's proceedings, when Maya Moore went first overall amid much fanfare. Hayes' experience was much more subdued, with the promise of success coming down the road instead of immediately, sort of like her UConn career.

"It will be very nice for me," she said according to the Hartford Courant's John Altavilla who notes that the 2012 draft ends a four-year string of Huskies going in Round 1. "In a way it's going to be like when I was a freshman at UConn when I came to a team with a lot of talent. ...

"They have reached the WNBA Finals the last two seasons and have a talented roster with a great player in Angel McCoughtry," she added. "Hopefully I can be a complementary player and bring some versatility. I can't wait to come in to training camp and do whatever they need me to do to make the team better."

Hayes attended the draft in Bristol, Connecticut, with her mother and UConn coach Geno Auriemma, who called Atlanta "a good spot for Tiffany in the way they play and Angel McCoughtry is a good player to play with."

Other Big East players selected Monday include Devereaux Peters (Notre Dame, third overall to Minnesota), Natalie Novosel (Notre Dame, 10th overall, Washington), Khadijah Rushdan (Rutgers, 15th, Los Angeles) and April Sykes (Rutgers, 28th, Los Angeles).

Hayes leaves UConn as the school's 10th-leading scorer and a 147-7 record, including four final fours and two national titles.
She was a third team All-American as a senior. According to the school's website, Hayes is the 26th Husky to play in the league since the WNBA's inception in 1997. UConn has now had a player selected in the WNBA Draft 13 times in the past 15 years.