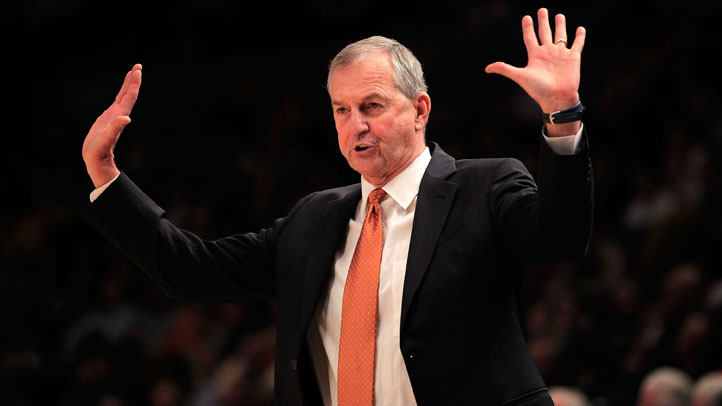 There's nothing definitive but it's something. Bradley Hayes, the 6-foot-11-inch-tall senior center from Jacksonville, Florida, has narrowed his list of colleges to four -- and the Huskies are among the finalists.

Hayes, according to ZagsBlog.com's Adam Zagoria, will choose among UConn, Georgetown, Florida and Texas A&M.

The Huskies have offered Hayes a scholarship but he said, "I probably won't really make my decision until I go on all my visits."
As for why he likes UConn, Hayes told Zagoria that it has a lot to do with how Calhoun develops big men.

"I like the history that the school has of putting big men into the league," he said. "They recently hey had Andre Drummond but everybody else they put in, like [Hasheem] Thabeet and a lot of other people. I just like their history of putting big men into the league because that"s my main goal."

Hayes has an injury history, including a knee he dislocated in 10th grade. Still, he has size and raw talent that needs to be developed. Plus, he'll have plenty of opportunity to play in 2012-13. And as the Hartford Courant's Dom Amore notes, "After a season of growing pains in a less-pressurized setting, with no postseason, he could really be developed for 2013-14."

Ultimately, Hayes wants to play in the NBA, though he's likely not a one-and-done candidate just because of his limited basketball experience. And he sounds committed to that goal.

"This is my first full year of playing high school because of injuries," he said. "... I plan on working hard. I'm going to be focused on what I gotta do. If I'm not in my dorm doing my school work. I'm going to be in the gym or the weight room."

Given that the Huskies will miss the 2013 postseason because of low Academic Progress Rate scores, recruiting players who take their coursework seriously is an added bonus.