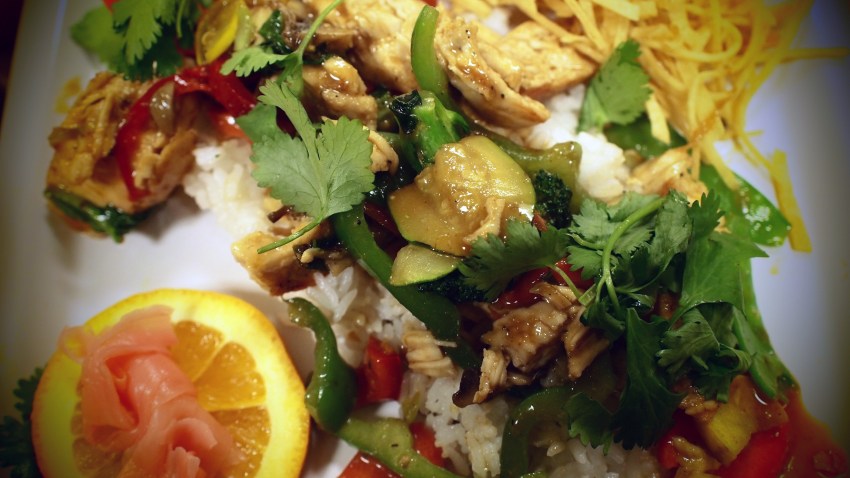 1 lb. Boneless Chicken, diced
½ cup Zucchini, sliced
½ cup Yellow Squash, sliced
½ cup Sweet Red Peppers, sliced
1 cup Diced Tomatoes or Marinara Sauce, low sodium
1 Tbsp Olive Oil
Pepper to taste
Fresh herbs such as marjoram, oregano, parsley, thyme, basil to taste
Directions:
Prepare veggies in thin slices including onion, peppers and carrots. Set aside
Remove chicken from refrigerator and cut into thin strips.
Boil Pasta.
Prepare fry pan with olive oil and heat on burner.
When pan is hot, stir-fry chicken until pink is gone, tossing several times, 5 to 7 minutes. Internal temperature of chicken should be 165° F.
When chicken is done put into bowl and set aside.
Into hot pan toss cut vegetables and sauté until crisp and tender.
Add chicken back into pan and toss with diced tomatoes or marinara sauce.
Serve over cooked pasta.
Suggestion for Sides:
Tossed Salad or Fresh Fruit such as Pineapple
Nutrition Facts (per serving:)
Calories: 299
Cholesterol: 14 mg
Sodium: 488 mg
Dietary Fiber: 2.37 g
Iron: 3.14 mg
Calcium: 40.11 mg
Vitamin A: 4499
Vitamin C: 41.05 mg
Protein: 10.70 g
Carbohydrates: 56.51 g
Total Fat: 2.48 g
Saturated Fat: 0.23 g
Trans. Fat: 0 g
14.30% Calories from Protein
75.69% Calories from Carbohydrates
7.45% Calories from Total Fat
0.68% Calories from Saturated Fat
0.00% Calories from Trans. Fat