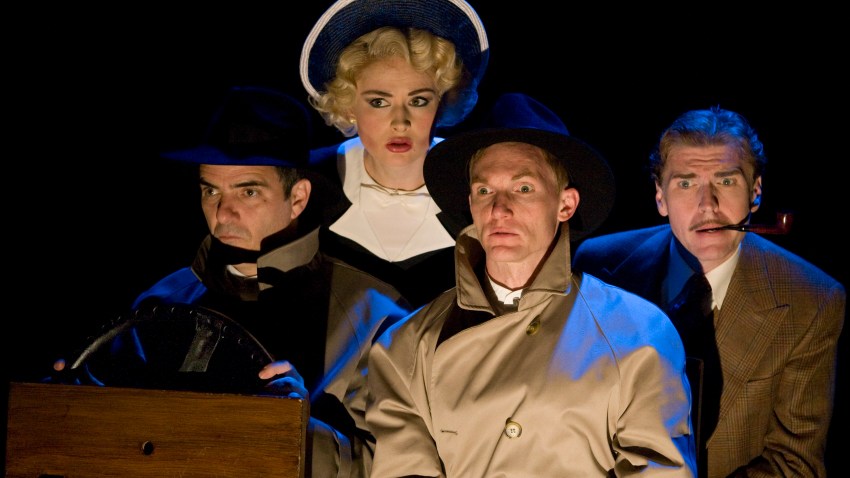 Who says great shows never travel off Broadway? For the next few days, the 2008 Tony Award winning show "The 39 Steps" is at the Shubert Theater in New Haven.
The show is actually
making it National Tour Debut during an exclusive Connecticut engagement.
What makes this show so fantastic is that a very talented cast of 4 actors tackle more than 100 different characters. "The 39 Steps" is a mix of Hitchcock's masterpiece, a juicy spy novel, and the hilarious antics of Monty Python.
Richard Hannay, played by Ted Deasey, is looking for more excitement in his life. During a night at the theater, he is lured into a world of intrigue by a mysterious woman who claims to be a spy. When she winds up dead in his flat, he flees London with the police on his trail. With just a few props and a lot of energy, Claire Brownell, Eric Hissom and Scott Parkinson reenact all of the supporting characters in Hitchcock's 1935 film.
"The 39 Steps" has been a runaway hit in London's West End, playing to sell-out houses at the Criterion on Broadway where it continues to delight and thrill audiences.
It is an incredibly enjoyable show that with all the costume changes and crudely imitated accents, will keep you laughing from beginning to end. There are only three more performances, Friday at 8 p.m., and Saturday at 2 p.m. and 8 p.m. so don't miss it.