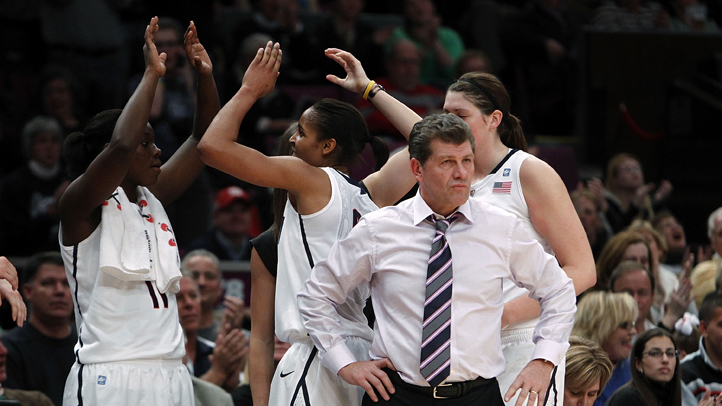 Unlike the men's NCAA Tournament bracket, which saw nine of 11 Big East teams lose in the first two rounds, the women's side has five of nine teams still alive. UConn, of course, is the top seed and they will face conference rival No. 5 Georgetown in the Sweet 16 this Sunday.

The teams have met twice this season. The Huskies won both times, 52-42 on Feb. 26 and 59-43 on March 6. If losing by just 10 and 16 can be called a moral victory, the Hoyas have had some success against UConn. By comparison, the last nine games the Huskies have played -- including the two Georgetown contests -- the average margin of victory has been 21.8 points. So in that sense, the Hoyas have been competitive.

And as Thursday's men's Sweet 16 match-up between Arizona and Duke showed, once the ball is tipped anything can happen. That said, UConn is clearly the favorite. The game will be played in Philadelphia, and in Friday's Philadelphia Daily News John Smallwood is frank about Georgetown's chances.

"If you want to see women's collegiate basketball played at its highest level, you should definitely watch top-ranked Connecticut. But if you hope to see a miracle upset, don't hold your breath. UConn's winning this region and advancing to the Final Four in Indianapolis is as close to a lock as you can get in sports."

If Georgetown needed extra motivation (just in case beating one of the best programs in basketball history wasn't enough), there's this: the team wasn't particularly psyched that President Obama picked them to lose in the first round of the NCAAs.

"My young ladies work extremely hard," Georgetown coach Terri Williams-Flournoy said after the Hoyas beat No. 4 seed Maryland. "For President Obama to say that we can't beat Princeton, [ESPN analyst] Kara Lawson to say we can't beat Maryland, and people to doubt us, it gives us a reason to prove our doubters wrong."

To Obama's credit, he was right about the UConn's men team -- he had them making it to the Elite Eight -- (not to mention he correctly predicted UNC to win it all two years ago) so perhaps he's onto something.

Whatever, none of that will matter once the game starts. It will come down to execution, playing smart, and for the Huskies, avoiding foul trouble. That could be tough since the Hoyas are known for their physical style of play and stifling defense. But UConn has overcome similar obstacles in the past, while doing it with just six or seven players.

It doesn't hurt that the Huskies have Maya Moore, one of the best players on the planet who, as it turns out, was just named one of 12 finalists for the Wade Trophy, presented annually to the nation's most outstanding NCAA Division I women's basketball player.

Not to look too far ahead, but UConn is familiar with most of the teams left in the tournament. Via the Hartford Courant's John Altavilla:
The Huskies have already played 10 of the teams still alive, including three that are also in the Philadelphia Regional — Georgetown, DePaul and Duke. The other seven are Ohio State, Oklahoma, Notre Dame, Stanford, North Carolina, Louisville and Baylor.

The Huskies are 14-1 against those 10 opponents, losing at Stanford on Dec. 30 — the only defeat UConn has had in its past 114 games.
Coach Geno Auriemma still contends that the Big East is the best conference in the country.

"But facts are facts. We play in the toughest league in America. We have to play unbelievably good teams every night. Those teams [nine Big East teams were in the field of 64] have proven themselves a tough out since the tournament began. I don't care who you are or where the games are played. Beating one of our teams is a very difficult proposition."

And Georgetown gives UConn more trouble than other Big East teams. Whether it's enough to upset the No. 1 seed ... well, that remains to be seen. Tip-off is Sunday at noon.