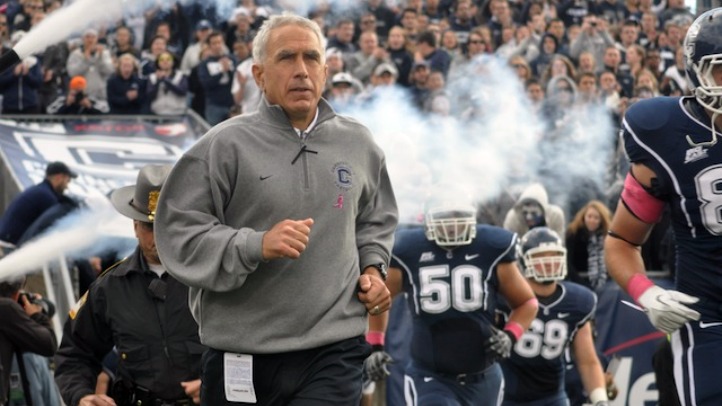 Lost in the National Signing Day mix was this bit of important news: UConn named defensive line coach Hank Hughes as defensive coordinator. He'll replace Don Brown, who left after two seasons for the same job at Boston College.
Hughes is no stranger to Storrs; he's been associated with the program since 2001, serving on the defensive side of the ball, including a stint as coordinator from 2002-2005. From 2005-2010 his title was assistant coach defense. And he managed it all while also coaching the defensive line, which has produced plenty of great players.

Hughes is a natural choice because of his success but also because his familiarity with the program means that he knows what works (a phenomenon that actually preceded Brown's arrival). Details via the Hartford Courant's Desmond Conner:
Under Hughes, UConn led the Big East in total defense in each of its first two seasons in the conference. The Huskies were seventh in the nation in 2006, averaging 297.1 yards in total defense, fourth in passing defense and seventh in passing efficiency defense.

In 2002, the Huskies' first Division I-A season, Hughes' defense ranked fifth in the nation in passing defense (160.4 yards a game), 18th in passing efficiency defense (102.44 rating) and 19th in total defense (316.1 yards a game). The Huskies ranked 23rd nationally, forcing 32 turnovers.

The Huskies continued its defensive success in 2004 as the team led the Big East in total and passing defense as the program headed to its first bowl and its first bowl win, a 39-10 victory over Toledo in the Motor City Bowl.
The biggest issue facing UConn -- and that would've been the case had Brown remained -- is finding replacements for Trevardo Williams, Sio Moore, Jory Johnson, Ryan Wirth, Blidi Wreh-Wilson and Dwayne Gratz.