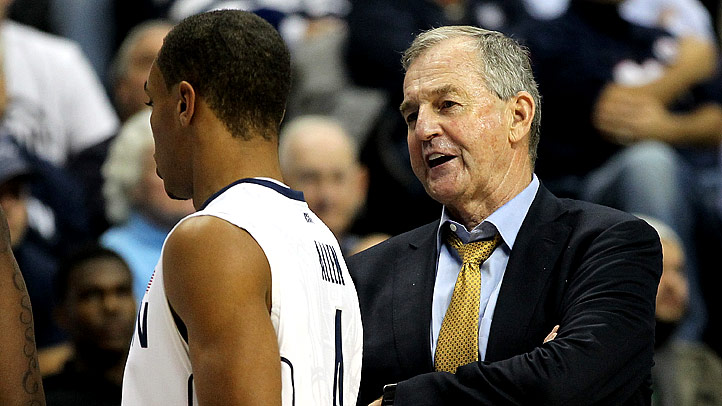 The Huskies ran their record to 2-0 with a 78-66 win over Wagner at Gampel Pavilion on Monday night.
The 12-point victory was nice, for sure, but it was the 42-24 rebounding margin that was most important to coach Jim Calhoun and his players.

Three days after watching an undersized and out-manned Columbia team double them up on the offensive boards, UConn went to work against Wagner. Alex Oriakhi led the way with seven rebounds, and Tyler Olander and Jeremy Lamb each added six. And while Calhoun was no doubt happy about the improvement in that area, he was far from pleased with his team's overall effort.

"We're just not invested fully into the whole process of playing 40 minutes of basketball," he said, according to the Hartford Courant's Dom Amore. "I don't think that everyone on our team is invested fully into playing defense."

"Last year's team was fun to coach," Calhoun added. "This year's team has been, to some degree, fun to coach."

According to Oriakhi, Calhoun said this team was "too selfish," but the player also noted that his coach "is a great motivator. When he says something, you want to go out and prove him wrong."

Whatever the rationale behind Calhoun's remarks, it will likely result in his team playing harder and unselfishly. Which, we're guessing, is the point.

Back to Wagner: in a theme we should get used to, Jeremy Lamb and Shabazz Napier led the Huskies. The sophomore point guard scored 21 points and Lamb added 20.

"They stepped up and made some shots, some key shots, some really tough off-the-dribble, distance shots that you really can't prepare for," Wagner coach Dan Hurley said, via the Associated Press.

Napier was on the floor for 35 minutes and Lamb played the entire game, assuming the point guard duties for the five minutes Napier was on the bench. Freshman point guard Ryan Boatright didn't dress for the second straight game as he waits for the NCAA to review his eligibility.

"I don't have any information except that I'm being told not to play him," coach Jim Calhoun said. "We do need that other guy that can go by people."

Brendan Allen, the freshman walk-on point guard, played two minutes.

UConn's two highly touted freshmen, Andre Drummond and DeAndre Daniels, both played well on Monday. Drummond had two blocks late in the first half that energized the crowd, and after not scoring against Columbia, he finished with eight points.

"In the first game, I was thinking too much about what I was going to do," Drummond said. "I think I'm getting more rhythm now. I think we're coming together as a team."

Given Calhoun's speech on selfishness, there's probably some more "coming together as a team" that will need to happen in the coming weeks. For now, though. the Huskies are 2-0 with a roster full of underclassmen and have a 13-0 winning streak dating back to last year's postseason. It could be worse.