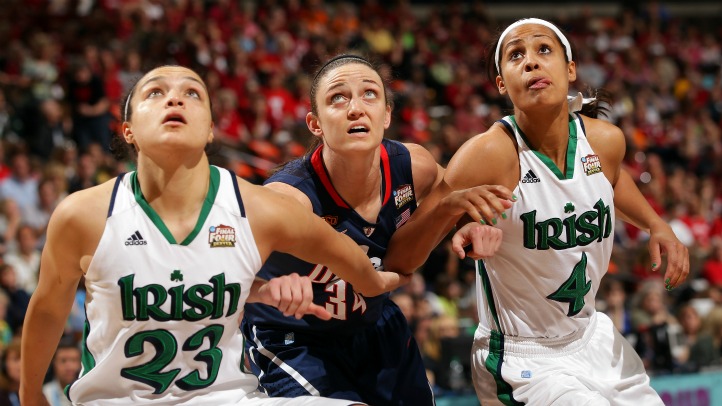 It was inevitable, really. A day after UConn beat Kentucky to make it to their sixth-straight Final Four, their arch nemesis, Notre Dame, did the same by defeating Duke. This sets up the latest rematch in a series that has been recently dominated by the Fighting Irish.

The stats: Notre Dame has won seven of the last eight -- including all three meetings this season -- and have been responsible for bouncing UConn from the Final Four the last two years. That's right: Maya Moore and Tiffany Hayes didn't win titles their senior seasons because the Irish didn't allow it. Next up: Kelly Faris, the heart and soul of the 2012-'13 team, the lone starting senior among a group that is playing its best basketball of the season.

But Notre Dame has had UConn's number and they are one of the few programs on the planet not intimated by the trophies, banners, and string of All-Americans that make their way through Storrs. Oh, and the Irish are also 34-1 on the season, winners of 30 straight, with their only loss coming to Baylor (who's now out of the tourney thanks to upstart Louisville).

But this is UConn, and Geno Auriemma doesn't have time for doubt or excuses. And, it turns out, neither does his team.

"Obviously we feel a little bit of confidence in the way we've played," Auriemma said, via the Hartford Courant. "I'm not one to buy into [the theory] that since Baylor has lost it's easy to win a national championship. I don't think it is going to be easy.

"We are not going to let our guard down, we are not going to go down there and take anything for granted. But I do have a really good feeling about our team, I do have a really good sense of where they are."

Junior guard Bria Hartley, who has battled inconsistency for most of the season but is now playing some of her best basketball coming off the bench, likes the way the Huskies have come together defensively.

"We've done a great job of just making it tough for other teams to run their offense and for other players to make plays," she said. "I've had a lot of confidence in our defense all year and I'll say our defense is the best in the country."

Teammate Kaleena Mosqueda-Lewis, one of the best pure shooters in the country, agrees.

"As long as we keep this mind-set, we're going to be awesome. You watch games, see who is winning. But it's too hard to focus on specific things about teams because you have no idea if you'll even be playing them. And anyway, our team has always focused on what we are doing as opposed to what the other team can do."

However, the difference between winning and losing could come down to a freshman who hasn't been asked to do much this season (until now, anyway): point guard Moriah Jefferson. Here's what we wrote Tuesday:
Kentucky, like Notre Dame, likes to pressure the ball, something that Caroline Doty and Bria Hartley struggled with at times this season. The smaller, quicker Jefferson had no such trouble, dribbling her way out of trouble and to the basket. A sure-handed point guard was the missing piece to UConn's championship puzzle, and Auriemma may have found one in Jefferson.

She's still a freshman, and prone to freshman mistakes, but athleticism can sometimes overcome inexperience. And whomever the Huskies face -- either Notre Dame or Duke -- Jefferson will be integral to their success.
It's a lot of pressure to put on a freshman, but this is UConn where the expectations always seem unreasonable until you exceed them. The Huskies will get another shot at the Irish this Sunday.