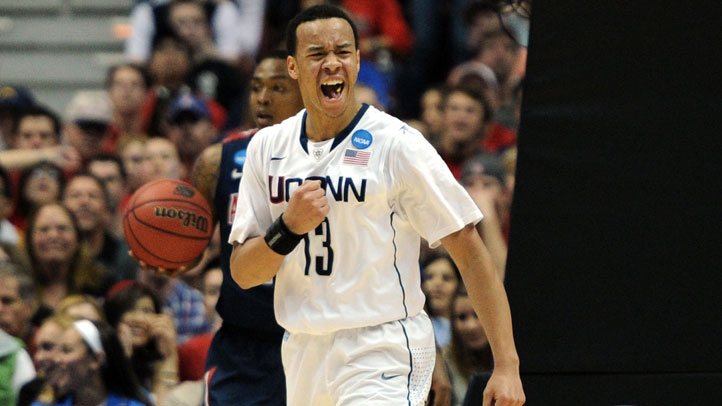 There are any number of things that can derail a season: lack of talent, poor coaching, tough schedule, shoddy luck and injuries all, to a degree, play a role.
Luckily, the Huskies are loaded, have a Hall of Fame coach who would tell you that you make your own luck and now, for the first time in a long time, they are relatively healthy.

The only thing UConn can't control is the schedule and that's why -- as the cliche goes -- you play the games.

On Monday, everybody practiced, including Roscoe Smith (wrist injury), Shabazz Napier (sore foot) and Michael Bradley (broken foot).
According to the Hartford Courant's Dom Amore, Napier, who was limping after the workout, said not to worry. "It hurt a little at the start of the game," he said, "but once the adrenaline kicks in, you don't feel it."

Interim head coach George Blaney said that Smith's wrist is "still sore" and called Bradley "close" to returning but indicated that it probably won't happen this week.
And that's OK, given this team's depth. But as they get deeper into the conference schedule, the Huskies will need every available body. The Big East is one of the most physical conferences in the country and that style of play can take a toll on players and teams over the course of a season.

Next up: UConn travels to New Jersey to face Seton Hall in its final game without Jim Calhoun.

Blaney's scouting report on Herb Pope, the Pirates' 6-8 senior forward averaging 18.6 points per game: "[He] is an all-Big East first team guy, the way he's playing. I'm really impressed with the defense he has been playing. He's always been a great rebounder."

Amore also asked Drummond about Pope.

"Who's Herb Pope?" he responded. "I don't mean any disrespect, I just don't know who Herb Pope is."

Points for honestly. Plus, as Amore writes, it's not uncommon for players to keep up with guys they know from playing together in high school and in AAU.

"I don't really follow a lot of guys," Napier said. "I don't watch a lot of TV, to be honest with you."

Added Drummond: "I don't see any team besides my own."