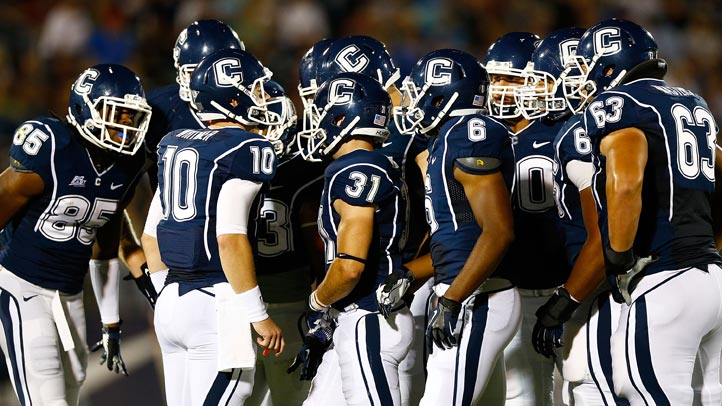 Stop us if this sounds familiar: the Huskies pretty much have to win Friday night's game against Syracuse (8 p.m. ET, ESPN). At 3-4 (0-1 in the Big East), they have five chances to get to six wins and become bowl eligible.

The problem: after last week's overtime homecoming loss to Temple. is that legitimate opportunities to win three more games are dwindling. After Syracuse, there's USF, Pitt, Louisville and Cincinnati. But coaches and players aren't one to look ahead and, for now. coach Paul Pasqualoni knows that if the Huskies can work through this most recent rough patch, they'll be better for it in the long run.

"I've always thought that persistence and perseverance for success in life is probably the most important thing you can have, the ability to hang in there, persevere, continue to do your best to play with maximum effort, that's kind of what we have to do right now " Paul Pasqualoni said via the Hartford Courant. "We have tough kids with high character and I think will work and keep going."

It's one thing to say "tough it out and things will improve," it's something else to actually do it. Linebacker Sio Moore has some suggestions on how to actually make that happen.

"I think one of the things we have to do as a team is, if things start going wrong, no matter what, we have to just stop it and bow up," he said via the Courant. "We faced that on a couple of fourth-and-1s last week, we said, 'look we're not coming off that field without that being a turnover. That's the kind of attitude we have to have in certain situations on offense, defense and special teams."

Kicker Chad Christen missed four kicks against Temple, and the offense continues to struggle with consistency. The defense has been the most reliable unit of the bunch, but here's the deal: Syracuse has one of the country's best quarterbacks in Ryan Nassib. He's thrown for 482 yards against Northwestern and 356 against Rutgers.

"Nassib throws the ball very well," Pasqualoni said earlier this week. "He's been in this offense since (Syracuse coach) Doug Marrone's been there. And he really understands what they're trying to get accomplished. He can make all the throws and he plays with a lot of confidence. He's got a really good supporting cast around him in the sense that he's got good backs to hand off to and good receivers to throw to, so it really helps him. He's a good player."

We'll find out how good on Friday night.