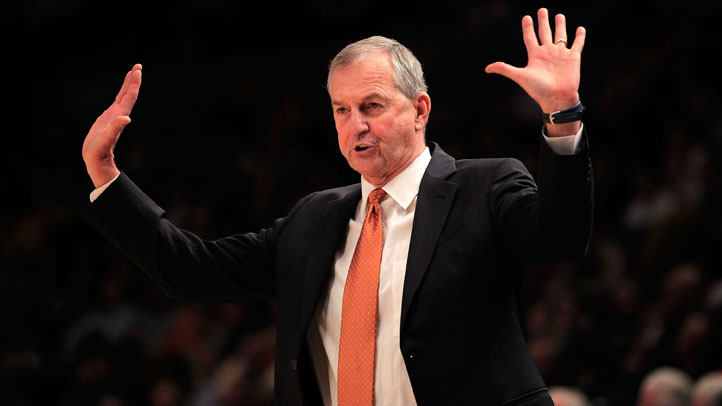 Amid the mass exodus, Huskies recruit Omar Calhoun is still coming to UConn in the summer.
But on Friday, the same day that Andre Drummond announced he was leaving for the NBA, Alex Oriakhi announced he was transferring to Missouri and backup Michael Bradley announced he was leaving UConn, the program got a commitment from R.J. Evans, who will spend a post-graduate year with the Huskies after playing for Holy Cross. Evans has a year of eligibility remaining but because the Crusaders don't offer his graduate field of study, he's allowed to transfer.

"It's a good decision for me and my family, and I'm just excited to get started," R.J. said, via the Norwich Bulletin.

Evans began his search over spring break and considered Southern California, Wake Forest, Pitt, University of Albany and UConn. But once he sat down with Calhoun his mind was pretty much made up.

"I like Coach Calhoun and the coaching staff went out of their way to help me find the right graduate program," R.J. said. "The other schools didn't do that. It's a good fit."

More details via the Worcester Telegram's Jennifer Toland:
The 6-foot-3 Evans, who was the 2008-09 Patriot League Rookie of the Year, had arguably his best season at Holy Cross this year. In addition to averaging 11.5 points, he raised his game at the defensive end and led the team with 49 steals.
"Everyone wants to play in the NCAAs," Evans said, according to Toland, "but you can't base your decision on that. I'm looking forward to furthering my education and playing for a hall-of-fame coach."

Evans' announcement is a nice respite from the non-stop flow of bad news for UConn. It doesn't change the fact that the Huskies can't play in the postseason in 2013, or that they'll be without three-fifths their starting lineup, but as Lou Holtz famously once said: "Don't tell people your problems. Half of them don't care and the other half are glad you got them."

The Huskies will be back, we're just not sure when.