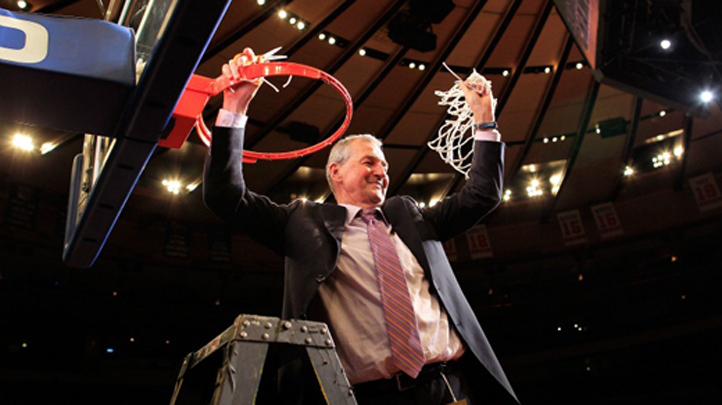 Recruiting can be boiled down to a cliche: you win some, you lose some. The difference between the good and great programs is that you're on the winning side more times than not. That includes landing the big fish (Andre Drummond, for example) and unearthing kids who other programs overlooked (see Shabazz Napier).

UConn has won its share of recruiting battles although the Huskies appear to be out of the running for Anthony Bennett. The talented high school forward from Nevada whittled his list of top destinations down to five schools and the Huskies didn't make the cut.

The finalists: Washington, Oregon, Kentucky, Florida and UNLV. The Hartford Courant's Dom Amore, who happens to be attending the Hoop Hall Classic, asked Bennett about it on Monday.

"No [particular reason], I just didn't think it was the right fit for me," he said.

If nothing else, Anthony gets points for honesty.

Amore asked if UConn possibly being ineligible for the 2013 had anything to do with his decision. More honesty.

"It was kind of part of it," Anthony admitted. ... "I do want to play in the tournament, and when I heard that, I kind of fell back on them."

Amore adds: "Keep this in mind: DeAndre Daniels had a long list of 'finalists' and UConn was NOT on it, so these things do change."

In happier recruiting news, 2012 recruit Omar Calhoun sounds like he's excited to come to Storrs and play for Jim Calhoun. (When Omar Calhoun committed to the Huskies last summer, he said that Jim Calhoun assured him that he would still be coaching.)

"When you talk to [coach Calhoun], you wouldn't know how old he is," Omar Calhoun said via Amore, "it's like he's 30 years old. You see how much energy he has, how much spirit, how much he wants it. … The one thing he told me, 'I'll always be honest with you. If you come here, you'll get better.'"

Amore asked coach Calhoun about Omar in November, and what he'll bring to Storrs for the 2012-13 season.

"He's exactly what we need, a guy who can score points. ... The biggest thing Ryan Boatright does for us -- he can play the point and score. Omar will do those same type of things. Great kid, great family. Not a great shooter yet, but he has a good stroke. He has a chance to be a very good player."

Coach Calhoun has a knack for taking kids rough around the edges and turning them into playmakers. In that sense, recruiting doesn't stop with the players arrive on campus. In fact, that's sort of where it begins.