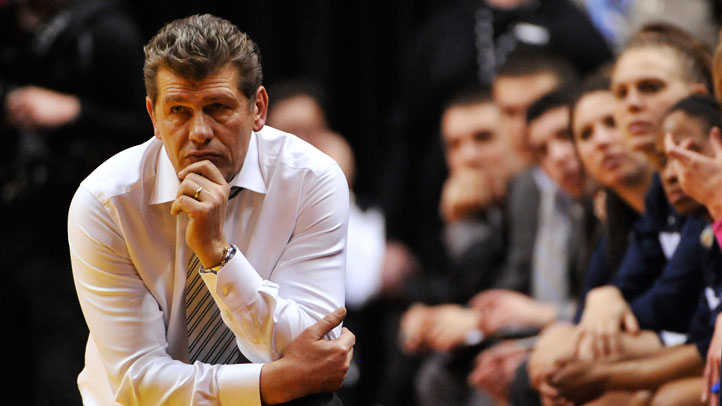 Another night, another Huskies blowout. This time, the Bearcats were offered up to the basketball gods and they must've been pleased because for the second time in as many games, UConn scored in the 80s and held their opponents in the 30s. It marked the Huskies' fourth win in a row after dropping an overtime game to Notre Dame on Jan. 7.

No. 3 UConn started strong -- scoring the first seven points -- but Cincinnati didn't fold immediately. In fact, it was 17-13 midway through the first half. Although, by the break, the lead had widened to 42-19. If there's a silver lining, the Bearcats were only outscored 38-18 in the second half. It's not much but it's something.

Cincy's best player, Dayeesha Hollins, added 18 points and she proved to be the only Bearcat capable of throwing a wrench in the Huskies' defensive game plan.

"It was frustrating, to think we go into the game knowing that was their best player and that was who was going to drive their offense," UConn guard Kelly Faris said. "We kind of lose concentration on stuff like that, little things and paying attention."

Ah, yes, paying attention. Sounds like a Geno Auriemma talking point.

"When we stopped standing around, trying to force the ball into the post, we started to get some movement," Auriemma, right on cue, said after the game. That gave us an opportunity to rebound offensively a little bit more and get more people involved in our offense. I thought Cincinnati did a really good job handling the pressure. They didn't have some of the problems other teams have had. Defensively, they make it very difficult for you to generate any offense inside the lane."

Offensively, Stefanie Dolson, Tiffany Hayes and Kaleena Mosqueda-Lewis all scored in double figures and Caroline Doty converted her 100th career three-pointer.

Next up: the Huskies travel to Chicago to face Depaul on Saturday night.