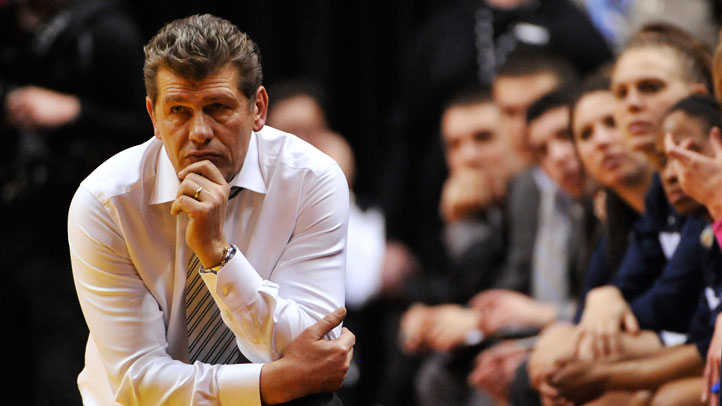 Geno Auriemma knows how to get the most out of his players. We've said it at various points during the season, most recently on Wednesday following the Huskies' 49-point win over Pitt. This came three days after UConn's surprising loss at home against St. John's.

As far as Auriemma's concerned, it's just another experience to grow from. Of course, that growth only takes place when it's followed up with a lot of hard work, and that's exactly what Auriemma had in mind in the days between the St. John's and Pitt games.
Junior Kelly Faris, the team's de facto team leader, spoke of the frustrations of losing and how Auriemma prepared his team in its aftermath beginning with the day-after-St. John's practice.

"It was a mentally tough practice [Sunday] and I think that is what Coach was looking for," Faris told the Harford Courant's John Altavilla. "Since the loss, [Geno Auriemma] has been harping about staying mentally strong each day, making sure we were focused. That was the tough part of [the practice]. We always do the physical stuff; we run a lot. But it's whether we listen to him, really pay attention to the coaches and do exactly what it is they ask us to do that makes a difference. There were a lot repetitions."

Auriemma's been around long enough to understand the ebbs and flows of a season, as well as to gauge the temperament of his team. That skill, honed over the years, explains why he's not panicking (well, that, and the seven national championships).

"Every coach in America is going through the same thing at this time of the year," he said. "The attention span of players today is about five seconds and then they can't remember anything they did. Every coach is sitting there wondering how they can get their players to concentrate, focus more, pay attention to the little details that are so important."

"Many of the players in college basketball today have no idea how to do that. That's why you see so much bad basketball. It's not because they aren't talented, it's because they don't have the ability to focus and concentrate and get things done that need to get done, the way they need to get done, when they need to get done."

This also explains Auriemma's reverse-psychology Jedi-mind-tricks. He called out Kiah Stokes earlier this season and she promptly picked up her game; Auriemma did the same with Stefanie Dolson following the St. John's game -- just in time for the Big East Tournament.

The UConn coach didn't return with his team to Storrs; instead he headed south to recruit the nation's best player, Diamond DeShields of Norcross, Georgia. We wrote about DeShields back in May -- she's coached by Angie Hembree, who coached Maya Moore for two years in high school.