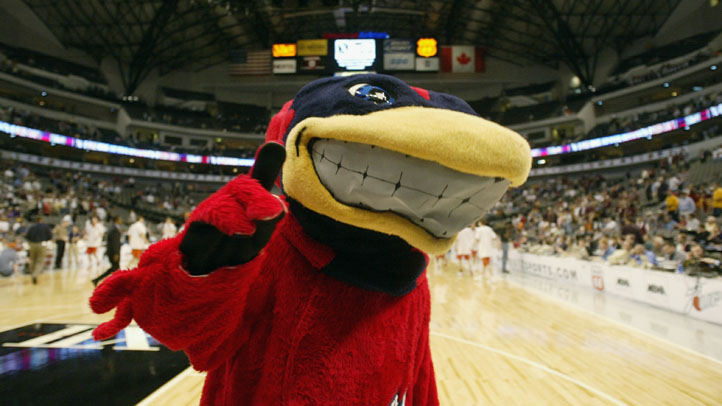 And now, for the weirdest news to come out of the Huskies' Friday-night at-home loss to Iowa State: the Cyclones mascot suffered a broken arm while in the UConn student section. Details via UConn's sports information department:

"The student in the mascot costume was treated by the East Hartford Fire Department EMTs and examined by orthopedic doctors from both the UConn and Iowa State sports medicine staffs. The student was transported to the University of Connecticut Health Center in Farmington, where he was treated and released and was able to fly home on the school's charter plane back to Ames, Iowa, following the game.

"Officers from the Connecticut State Police immediately investigated the incident through a series of interviews with witnesses, including the student in the ISU mascot costume who was injured. The police determined there was no physical altercation tied to the event and no charges were filed."

That account differs slightly with that of the mascot, Iowa State student Zane Brugenhemke, who said on his Facebook page that a "Fan pushed me out of the stands … eight foot drop onto concrete." Brugenhemke added that he fractured his left ulna and radius, and he was supposed to have surgery on Sunday.

Brugenhemke also wrote that UConn "quickly rose to #2 on my most hated fan bases … breaking my arm isn't a good first impression guys."
A broken arm only gets the Huskies to No. 2?
The Hartford Courant has more on the two versions of how things went down in the stands.

"Another story, attributed by a local fire official to state police, is that the mascot went into the stands to celebrate and his wing touched a student, who then pushed the mascot, who then fell.

"A witness who contacted The Courant said the mascot ran up a set of stairs the band uses to reach the field, had a confrontation with a fan and pushed the fan in the chest.

"'The fan retaliated and pushed him back,' the witness said. "It was a good, hard shove, enough to push him off that platform.'"

Whatever happened, it sounds like the case is closed. Again referring to UConn's official statement on the matter. "Officials from both the UConn and Iowa State athletic departments worked together to make sure that the student received the proper medical treatment. Before departing Rentschler Field to return back to Ames, officials from ISU indicated that they were satisfied with the findings of the police."