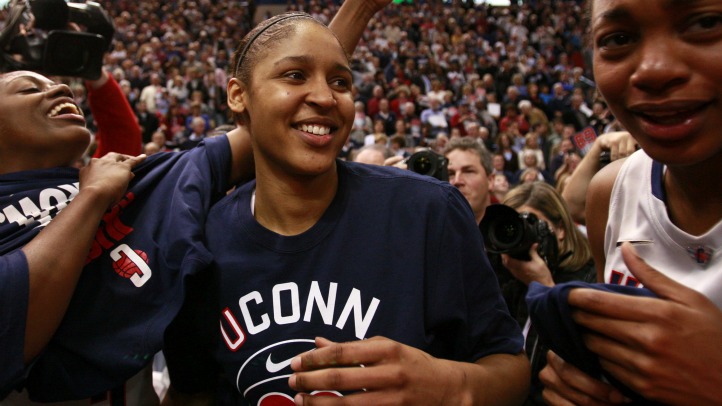 The WNBA draft doesn't officially begin until 3 p.m. on Monday, but the Minnesota Lynx's choice for the first-overall selection is pretty much set in stone at this point.
Maya Moore, the UConn forward who led her team to three NCAA Championships, not to mention numerous individual honors during her four-year career (on Friday, Moore received the Wooden Award as the country's top female college basketball player), is set to be a member of the Lynx later this afternoon.

While anything can happen, it sounds like Minnesota is locked into selecting Moore No. 1.
"The first pick will not be traded," said Lynx coach and general manager Cheryl Reeve.

"I see a player who is extremely passionate about the game," Reeve said of Moore. "Her ability to shoot the ball is what people look at, but she runs the floor and rebounds so well. She commits to every phase of the game. … She is committed to being the best."

Moore, like most things basketball-related, appears to be taking it all in stride. "It's been a blast watching my teammates go [in the draft] over the last three years and now it's my turn," Moore said, according to the Hartford Courant. "It's exciting for me and those around me, especially my mother [Kathryn]. It's a lifelong dream."

If Minnesota is the next stop in her basketball life, it won't much resemble Storrs. Moore won 150 of 153 games at UConn, including a 90-game winning streak that was snapped last season. The Lynx, at the other end of the spectrum, haven't finished higher than fifth in the Western Conference since 2004.

The Minneapolis Star-Tribune's Kent Youngblood writes that recent high draft picks for the Lynx haven't paid off.

"The Lynx have been down this road before," Youngblood notes. "High draft choices come with the nonplayoff territory. The Lynx had the first overall in 2006 (Seimone Augustus), '07 (Lindsey Harding, via trade) and 2010 (sent to Connecticut as part of the deal that brought Lindsay Whalen here). The Lynx also had the third pick (Candice Wiggins) in 2008, the fourth pick in 2009 (Renee Montgomery) and the second pick in 2010 (Monica Wright). And yet the team has never won a playoff series."

Coach and GM Reeve didn't try to make excuses. Via the Star-Tribune:

"For people who are kind of mired in that previous lack of success, you can't really fault them," said Reeve, about to enter her second season as Lynx coach after four years and two titles as assistant to Bill Laimbeer with the Detroit Shock. "But I felt like, for me, I have a great deal of confidence. This is my 11th season in the league. I've seen playoff teams. I know what they look like and feel like."

If anything, the Lynx have been victims of bad luck, which can derail championship teams and decimate lesser ones like the Lynx. But that's where Moore comes in. After leaving her mark on the college sport, she is now tasked with helping to turnaround a Minnesota outfit that has floundered in recent years.

"This year, you're looking at a person that doesn't come along very often," said Lynx executive vice president Roger Griffith. "Every year, the first player taken is theoretically the best. But some No. 1s have been better than others. This is the year that's very unique. This is a special situation we have, one that doesn't come along every day."