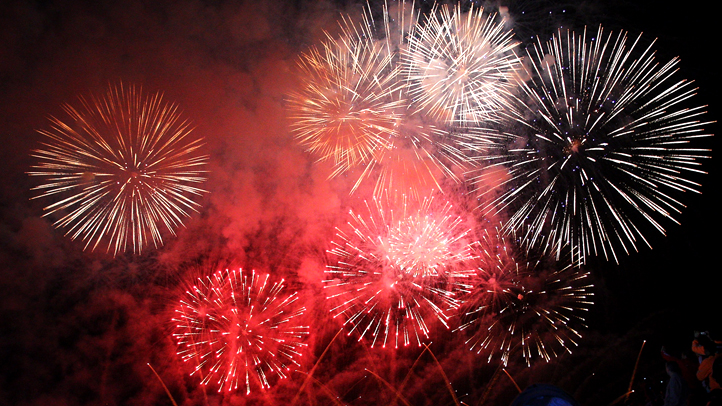 The July 4th holiday may be over, but there are still plenty of fireworks celebrations to be seen across the state.

July 9
Windsor Locks: Annual Fireworks Display for Fireman Carnival, 9:30 p.m.

Beacon Falls: Fireworks go off at 8 p.m. at the Pent Road Sports Complex. Park at the Main Street firehouse and there is a shuttle to the complex.
East Hartford/Hartford: Riverfest, 9 p.m. The Hartford Star Shuttle service will run for free throughout the weekend. The shuttle route connects the CT Convention Center, the Riverfront, the CT Science Center, the Arts and Entertainment District, various restaurants and downtown hotels. Learn more at the web site for Riverfront Recapture.
Farmington: Tunxis Hose Co. carnival, Unionville 9:30 p.m. (Postponed from Friday)
Lebanon: Lebanon Green, dusk. Rain date is July 10 at dusk.
New London: SailFest on the New London/Groton waterfront at 9:20 p.m.
Windsor Locks: Annual Fireworks Display for Fireman Carnival, 9:30 p.m.

July 10
Enfield: Town Green at 9:45 p.m.
July 16
Canaan: The fireworks display is during Canaan Railroad Days.
East Lyme: Celebrate East Lyme ends with fireworks over Niantic Bay at 9 p.m.
Newington: Mill Pond Park at 9:30 p.m. over . More events are listed on the town of Newington's Web site.
Portland: Exchange Club Fairgrounds on Route 17A. Gates open at 5 p.m. Fireworks at 9:15 p.m.
July 30
Sprague: 9:30 p.m. at Babe Blanchette Memorial Field in Baltic
Aug. 7
North Branford: Augur Farm at 9 p.m.