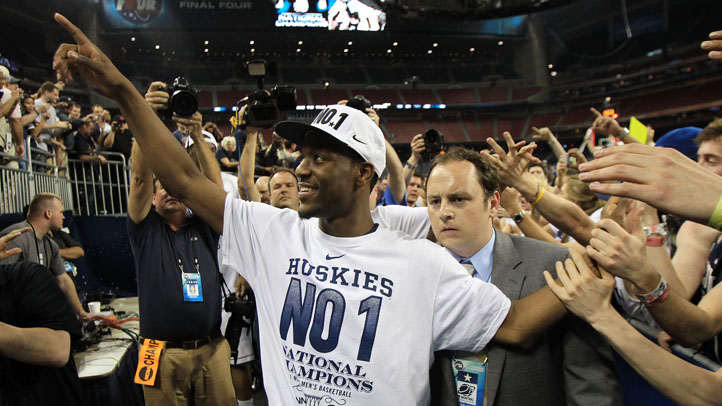 The Greater Hartford Pro-Am might still be a relatively new experience for sophomores Roscoe Smith and Tyler Olander and freshmen Ryan Boatright and DeAndre Daniels, but it's old hat for Kemba Walker.
The former UConn great, and the latest addition to the NBA's Charlotte Bobcats, was in town on Monday night to do what he'll soon get paid to do: play basketball. Except this time, he didn't start, something that would have been unheard of last season. There's a good reason, though; Walker wasn't in the building at tip-off.

In fact, late in the second quarter and with his team trailing by more than 20 points, Doc Hurley All-Stars coach Kevin Kirksey got a text from Walker that read "on my way."
If Superman sent text messages, we suspect it would contain similar sentiments. Walker arrived at halftime, along with Olander, Smith and former UConn forward Ben Eaves.

The Hartford Courant's Mike Anthony was there and provides the details.
Hurley trailed by 18 at the half and then by 28 in the first few minutes of the second half, when these celebrated players were still trying to get on the same page with Doug Wiggins and Mike Evanovich, who had carried the Hurley team before their arrival at Sport & Medical Sciences Academy.

It became interesting, fun. Walker at one point made four consecutive three-pointers and finished with 32 points. Wiggins hit a few clutch shots and finished with 35. Smith had 17, including a spin for a forceful dunk. The deficit was twice cut to nine. The bleachers, once half empty, were now full because so many texted and tweeted about who had arrived. In the end, Worldwide Denim did to the potential Hurley saviors what they did to the fill-ins who started the game because Kirksey didn't have five players. They scored at will.
By the time it was over, Denim had defeated Hurley, 135-124. So unlike Superman, or any of the final 11 games of the Huskies' 2011 postseason, Kemba's presence wasn't enough to save his team. Then again, this was Walker's first organized game since April 4. But competitors compete and Walker wasn't there to go through the motions.

"Connecticut loves us," Walker said, according to the Courant. "It's a great feeling. … [Kirksey] had said we were down 12, but we were down 18. And then they just kept making shots. I thought we had a chance, but it was too late."

"I thought we were down 12," said Smith, who was told the same white lie. He laughed. "But it was 18. That's a lot and they hit big shots."