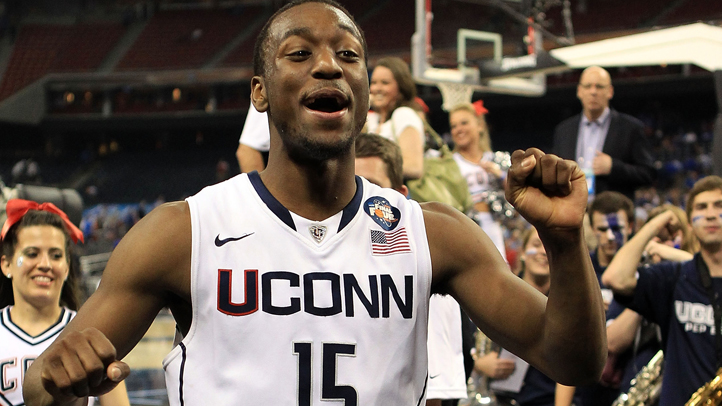 You may have heard something about Kemba Walker and the NBA Draft, quite possibly because we can't go a week without bringing it up. To be fair, Walker is arguably the best player in UConn's storied history, and he has everything to do with the Huskies' 2011 run through the postseason all the way to a national title.

And come Thursday, he will officially be a member of the NBA, likely a top-15 pick.

Last week, SB Nation's Tom Ziller predicted Walker would go to the Pistons eighth overall. In his last mock draft before the real thing, Ziller now has Walker lasting until the 13th pick, where the Suns finally take him.
We say "finally" because it could mean that Jimmer Fredette would now go 12th to the Jazz. Utah makes sense for Fredette -- he played at BYU and has a huge following in the state -- but for most of the spring, conventional wisdom had Walker as the better pro prospect. That, apparently, has changed.

Ziller explains:
13. Phoenix Suns: Kemba Walker, G, UConn

Yes, Kemba Walker, No. 13. Here's the issue with Kemba, and why I have him sliding so far: after Sacramento at No. 7, who's picking a point guard? Detroit could, given the Rodney Stuckey experiment's lack of success. But Milwaukee isn't, and the Warriors aren't touching any of the small guards. Utah worked out Kemba and Jimmer together, and all anyone talked about afterward was Fredette. So really, Walker's best bet (assuming he didn't leap Knight on Utah's board, making him an option at No. 3), is to watch Knight go before Toronto at No. 5, then become the Raptors' guard of the future. Otherwise, he could very well slip on down to here. Which would make Jay Bilas breathe fire and twist Fran Fraschilla into a knot.
Take that for what it's worth. We'll know for sure on Thursday night. In the meantime, here's Walker giving ESPN's Andy Katz an all-access tour of his hometown.