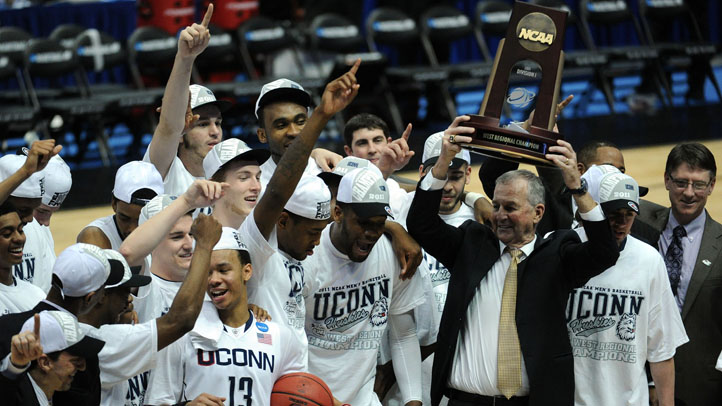 The UConn Huskies are in the Final Four for the second time in three seasons. A month ago, it was unthinkable; now, nine wins in a row later, here we are.

UConn will face Kentucky (29-8), fresh off a victory over North Carolina in the Elite Eight, in Houston this Saturday at 8:49 PM. The Huskies and the Wildcats met earlier this season in the Maui Invitational, but these two teams barely resemble the ones that played on November 24. UConn unranked at the time, won easily, 84-67, and Kemba Walker scored 29 points.

"We wanted to show the world that we're still UConn," Walker said at the time, and who has echoed similar sentiments throughout the year as the Huskies have gone from unranked to top-10 to losers of four of five to end the regular season to where they are now: Big East Tournament champs and Final Four participants.

More impressive than Walker's performance against the Wildcats: Alex Oriakhi, who not only grabbed 11 rebounds, but added 18 points. If he can duplicate that effort next weekend, you'd have to like UConn's chances.

But like the Huskies, Kentucky's lineup is chocked full of young players, many of whom were finding their way at this level during that first meeting. All-everything freshman point guard Brandon Knight had six points and five turnovers; against UNC Sunday, Knight was nearly unstoppable, converting 5 of 11 3-pointers and scoring 22 points.

Knight, much like Walker with UConn, is Kentucky's engine. When he's on, the Wildcats are a completely different team; which is something Huskies fans can relate to. So what changed for UConn, a team that limped into the Big East Tournament after losing three of four?

The day after the loss to Notre Dame at Gampel Pavilion in the regular-season finale, the team practiced, but not before receiving a blunt message from their coach.

"I really went at them," Jim Calhoun said Saturday after UConn defeated Arizona, according to the Hartford Courant. "I told them, 'You're playing not to lose. You're not playing to win. You're not playing basketball any longer.'"

"One of our problems was energy," Jeremy Lamb added. "Sometimes we would have it in practice and we couldn't carry it over to the game. I didn't know how far we would go or what exactly would happen but I was just like, at the end of the day I want to look in the mirror and say, 'I played my hardest,' win or lose."

Also helping: Walker has played out of his mind for months now. And this is what concerns Wildcats coach John Calipari.

"Kemba Walker is not a good player, he is a great player who has willed his team and individual players to where they are right now," Calipari said. "For some reason, I don't think that will is going to diminish this next weekend. So our hands full, but we're still playing."

Unlike their first get-together, Kentucky will have to worry about more than Walker. If Oriakhi scores 18 again, great, but no one is expecting that, especially given how well Wildcats senior center Josh Harrellson is playing. But there's Lamb, who has gone from wide-eyed and overwhelmed to grizzled vet who takes -- and makes -- big-time shots.

Whatever, the Wildcats won't be intimidated. For starters, they have already played the Huskies. More than that, they too have matured as the season progressed. And finally, this is the third different school Calipari has taken to the Final Four. He knows what he's doing.
But we have a week to talk about the match-up. For now let's just celebrate life's little pleasures, like the ancillary benefits to the Huskies making it this far.
Via ESPN's NFL draft guru Mel Kiper, who tweeted before the UConn-Arizona game: "I just made a wager with Dari on tonight's game that if Connecticut loses I will dye my hair blonde. Go Huskies!"
Disaster averted.