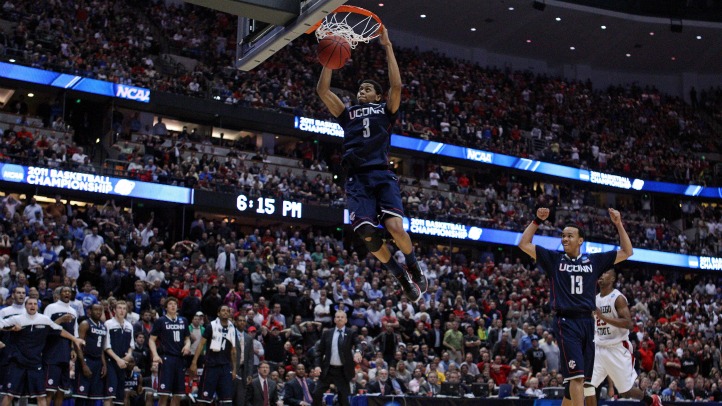 Five weeks ago, UConn rising sophomore Jeremy Lamb earned an invitation to tryout with the Under-19 U.S. National Team. It was the cherry on top of an improbable season that began in unremarkable fashion, as is the case for most freshmen, but ended with Lamb playing an important role in the Huskies' national title run.

As we wrote last month, If Lamb played in March and April like he had in January and February, there's every reason to believe that the Huskies wouldn't have won the conference tournament or the national championship. There is only one Kemba Walker, but he's much easier to contain with double and triple teams because no one else on the roster is a consistent scoring threat. Down the stretch, Lamb was that guy.

And he parlayed that into a shot at the national team. On Sunday, USA Basketball announced that Lamb survived the first cut and is one of 13 remaining players vying for 12 spots. The odds are in his favor. Details via the press release.

"Thirteen players, including five with prior USA Basketball experience, were named Sunday as finalists for the 2011 USA Men's U19 World Championship Team. The selections, which were made by the USA Basketball Junior National Team Committee, came after three-days, four training sessions, during the USA U19 Team training camp that got underway Friday. The USA squad will look to defend the gold medal won in 2009 at the 2011 FIBA U19 World Championship that runs June 30-July 10 in Latvia."

Former Georgia Tech and current George Mason coach Paul Hewitt heads the Under-19 squad.

"I think our inside players are tremendous. We have some good balance and some guys that can shoot the basketball," Hewitt said. "Obviously, it was a hard decision to come down to 13, and we still have to make one more decision before we go overseas."

"The focus from here has got to be on defense," he continued. I don't think that we can be a team that's going to have the most continuity, so we have to be a really good defensive team and capitalize on our ability to get stops in transition."

One of the knocks against Lamb early last season was that he seemed a step slow on the defensive end. By April, he was one of the best defenders on the team. Here's what we wrote shortly after the Huskies defeated Butler in the national championship game.

"While much of the focus on this year's Huskies team was on Walker -- and for good reason -- coach Calhoun has mentioned several times in recent weeks just how far freshman guard Jeremy Lamb has come defensively. In fact, Lamb's block of Shelvin Mack's three-point attempt early in the title match-up set the tone for the rest of the night and left Mack impressed. 'They would contest shots that people normally wouldn't be able to contest,' he said immediately after the game. And it was Lamb's ability to defend one-on-one that played a big role in UConn's game plan."
If Lamb can do that on college basketball's biggest stage, he should have little trouble bringing those skills to national team tryouts.