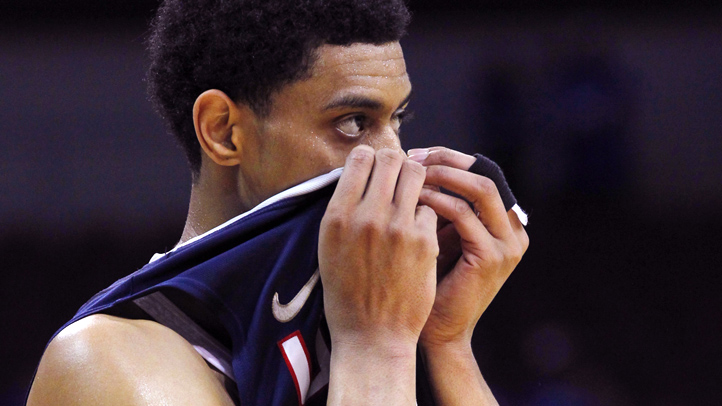 Jeremy Lamb, one of the standouts on UConn's men's basketball team, is leaving the University of Connecticut after his sophomore year to be eligible for the NBA draft.
"It was a difficult decision, but after much prayer and discussion with my parents, I feel that it's in the best interest of me and my family to declare myself eligible for the upcoming NBA Draft and pursue my dream of playing professional basketball," Lamb said in a statement. "I have very much enjoyed my two years at UConn, especially getting to experience one of the greatest feelings that a college player can have, winning the national championship."
Lamb, 19, of Norcross, Georgia, developed a following during his freshman year as a prominent player on a team that would take the national title that year.
He started every game for the Huskies last season and led the team in scoring this season at 17.7 points per game.
Last season, Lamb became just the sixth sophomore in UConn history to score 1,000 career points and his 1,060 points rank him No. 42 on UConn's all-time scoring list.
"It's never easy to lose a great player from your program, but Jeremy has a unique opportunity that he needs to take advantage of," UConn coach Jim Calhoun said. "He's been a great kid to coach for the past two years ... his teams have won 52 games, been to two NCAA Tournaments, and won a national championship. I look forward to him developing into a terrific player in the NBA and secondly, as he's promised me, to come back and finish his degree."
"I have learned a lot, both on and off the basketball court as well as in the classroom, and I feel as if I'm ready to take the next step in my basketball career," Lamb said. "I intend to successfully complete the current semester academically as I get prepared for the draft."
Lamb becomes the 14th UConn player under Calhoun to leave school early to enter the NBA draft.
"First, I want to thank God for blessing me with the ability to play this great game," Lamb said. "I want to thank Coach Calhoun for giving me the opportunity to play at UConn and I want to thank the entire coaching staff and all my teammates for helping me improve enough to hopefully be successful at the next level.
He is second player to decide to leave since the NCAA issued sanctions on the team, canceling out the possibility of postseason play next year unless the association decides to change its procedures for academic rankings.