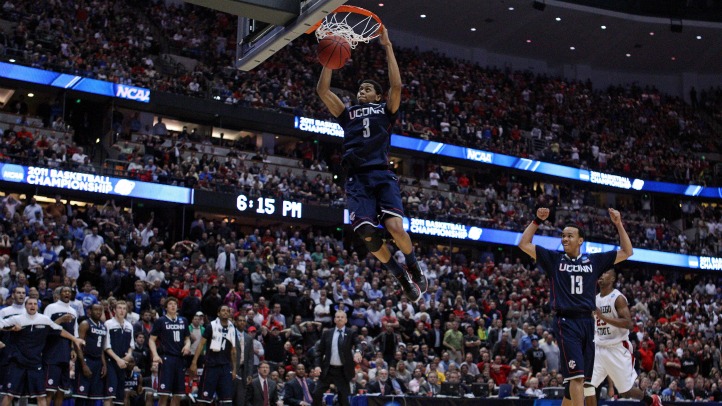 Jeremy Lamb is back from Latvia and his stint with the Under-19 US National Team and, as promised, he showed up at the Greater Hartford Pro-Am where many of his UConn teammates are preparing for the upcoming season. After a fantastic freshman season that ended so well that he gave serious thought to turning pro, Lamb's legend has only grown during the offseason.

He outshone nearly everyone at the FIBA World Championship and his performance at the GHPA was a reflection of how far he's come since arriving in Storrs last summer. And while we weren't in the stands to witness it live, we're willing to take the New Haven Register's David Borges' word for it (and he wasn't there either; that's how impressive this is).

According to eyewitness reports -- and, of course, the YouTube video evidence -- one play from over the weekend, courtesy of Lamb, has been described by Pro-Am director Pete Higgins as "extraterrestrial." Naturally, this intrigued us.


Oh my. Apparently, that's Greg Langston, a freshman at Southern Connecticut State, getting crossed up at the top of the key before Lamb drove to the hole and threw it down. (Borges hears that Langston guarded Lamb for most of the night and more than held his own even though, you know, Lamb still got a triple-double. Hey, given what Lamb's been prone to do on the basketball court in recent months, that's still pretty good defense from Langston, though he may feel differently.)

"Everybody just went home after that," said Higgins, only slightly exaggerating. "It wasn't quite Biblical," said Higgins, "but it was extraterrestrial."

Borges writes that people were talking about Lamb's dunk "in hushed tones" all night. And Jim Calhoun might retire? Yeah, right.