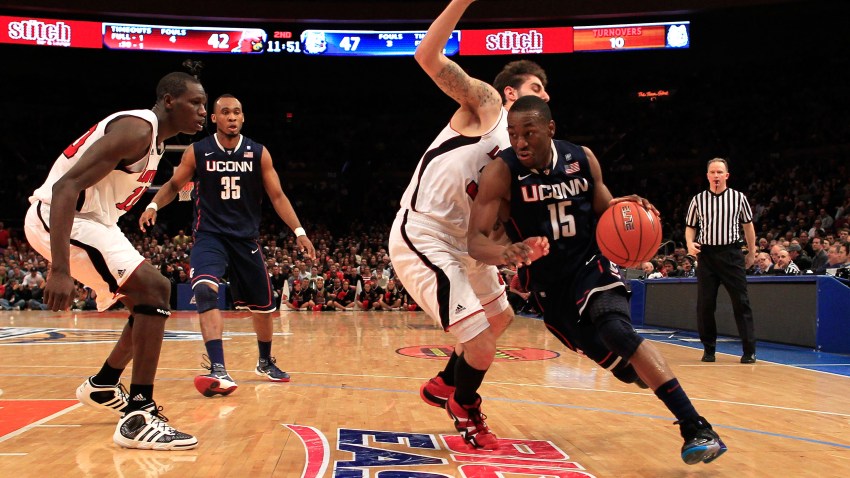 Bucknell won the Patriot League regular season and tournament titles, posted a 25-8 record along the way, and for their troubles they get to face one of the hottest teams in the nation: No. 3 UConn.

You might have heard something about the Huskies reeling off five wins in five days and Kemba Walker, playing on fumes in the Big East Tournament finals, willing his team to victory over Louisville. We're all familiar with how UConn got to this point: overcoming off-court distractions and the growing pains that come with freshmen and sophomores playing a lot of minutes. But the experiences have made the Huskies better and you have to only look at the last five games as proof.

But what about Bucknell? The Bison have won 10 games in a row and are 23-2 since December. Of their top five scorers, two are seniors and three are sophomores. They also have wins over Boston University and Richmond.

"The things that we've been good at throughout the season, certainly since we hit Dec. 1, is we've been a team that hasn't beat itself," Paulsen said Monday. "We've played very good defense. Our field goal percentage defense (39 percent) and our 3-point field goal percentage defense (31.5 percent), those numbers are very, very good.

"We've been solid and steady. We've had the mindset that teams have to play great to beat us," Paulsen added. "Now, obviously we haven't seen the likes of UConn in a while. Whether we can be as steady and solid and sure with the ball against those people is whole another issue."

Bucknell faced two Big East teams to start the season, losing to Villanova (68-52) and Marquette (72-61) in back-to-back games.

"We had Marquette a little bit on the ropes, up 10 midway through the second half," Paulsen said. "Two things happened. Their athleticism wore us down. We gave up too many offensive rebounds, which tends to happen when you play against bigger, more athletic guys. … Second, we weren't quite sure if we belonged on the court with Marquette."

And, in general, the athleticism is the biggest difference between big-time programs and smaller Division I teams. The mitigating factor: if the small schools figure out that they do, in fact, belong on the court. Then watch out. And we see it happen every March in the first weekend of NCAA Tournament games: lower seeded teams, that on paper don't have a prayer, end up winning. Like, for example, Bucknell, which won first-round tournament games over Kansas in 2005 and Arkansas in 2006.

"Every guy on our team and every coach on our staff is at Bucknell because of that team that beat Kansas and the team that beat Arkansas," Paulsen said. "That demonstrated that you can be at a small school and win games in the NCAA Tournament."

Obviously, the game plan to stopping the Huskies begins with All-American Kemba Walker. But Paulsen noted that in watching the UConn-Pittsburgh game, he was interested in how many offensive rebounds the Huskies pulled because the Panthers were busily paying attention to Walker. As for what Bucknell might do, point guard Darryl Shazier (8.3 points per game, 5.6 assists per game) noted that "This year we had the (Patriot League) defensive player of the year, Bryan Cohen, who will most likely be the matchup on him," "But it will definitely be a team effort in stopping Kemba Walker. He's a great player."

And that can't be emphasized enough: it's one thing to recognize that stopping Walker is key; it's something else entirely to do it. Five teams in the Big East didn't come close last week and, truthfully, it will be Bucknell's only chance at the upset.