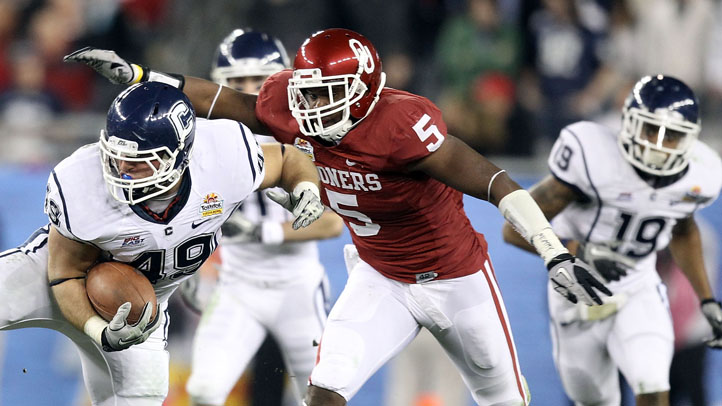 News about the UConn football team has taken a back seat for the time being, lost amid all the Big East and NCAA Tournament hoopla. Spring practice starts tomorrow but if all goes well on the basketball front, the men's and women's teams could be playing for three more weeks.

However, with no basketball on the schedule for a few more days, now seems like a good time to catch up on other UConn sports-related news. We last talked about the University losing $1.8 million when the football team played Oklahoma in the Fiesta Bowl earlier this year.

As I wrote at the time, the fallout was predictable: supporters, fans and taxpayers were equal parts mad and confused. How can you lose money when the Fiesta Bowl forked over $17 million earlier this year to the Big East and Big 12, $2.5 million of which made it's way back to UConn?

The simple answer: the University had to buy game tickets through the bowl, which were substantially more expensive than tickets available on websites like Stubhub.com. More generally, many schools appear in bowl games and end up losing money. But as UConn's associate director of athletics/communications Mike Enright told the Connecticut Post two weeks ago, there are other benefits to UConn playing in a BCS bowl game: improved recruiting, increased admissions, and higher ticket sales and donations.

And then there's this, from Thursday's Hartford Courant: the Big 12 Conference gave Oklahoma, a perennial national football powerhouse, $1.8 million to cover their Fiesta Bowl expenses. The details:
Oklahoma had a net gain of $9,350 from its Jan.1 date with UConn in the Fiesta Bowl, according to a school official and financial documents submitted to the NCAA.

However, the gain would have been a huge loss had it not been for the Big 12 policy of absorbing much of the cost of unsold tickets. The Big 12 absorbed 10,403 tickets at $1,884,250. The school absorbed 1,530 at $337,080.
"You get an allowance for all your expenses from the conference every year but you are responsible for staying within the confines of that allotment," Kenny Mossman, the director of media relations in OU's athletic department, told the Courant. "It's not the same amount every year."

As for teams having to cover the difference in unsold tickets, Big East commissioner John Marinatto expects a discussion on the matter this spring.

"It's not an uncommon policy to have some protection in place in case something like this happens," Marinatto told the Courant. "The membership could certainly make a decision to have what's in place now, or change to more of a fluctuating policy where schools, in a particular year, would be responsible to contribute a portion of their bowl monies back to the school that's trying to cover cost when it can't sell its tickets. It's a reasonable thing to do. . . . I expect it to be discussed this spring."

UConn will get $3.8 million from the Big East later this year as "each football-playing school in the league will receive that amount as its cut from bowl and television revenue." But it's not just teams relatively new to Division I who operate at a loss in big-time bowl games. Even the Oklahomas of the football-playing world operate in the red. Unfortunately, that's more an indictment of the current setup than the sport's popularity.