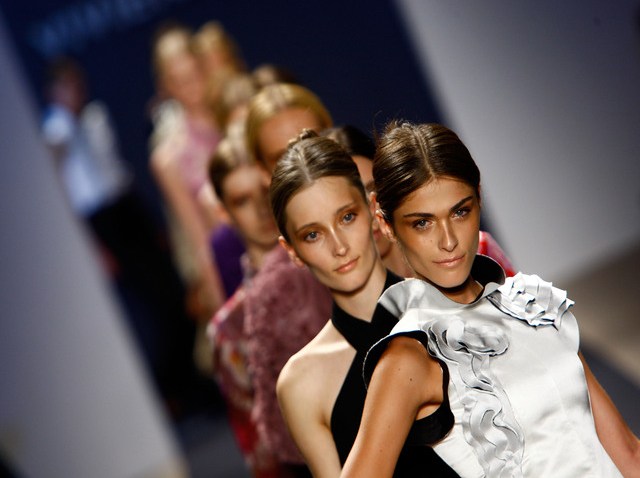 So maybe you saw our on-air tease of the Want This crew heading to New York for Fashion Week, but that's just the beginning. We'll be reporting live from backstage to the runways to the after parties via Twitter all week. Here's just a rundown of how the rest of this week will play out:
TODAY... We'll be heading backstage at Hayden-Harnett with the Team Tarte to check out what kind of eco-friendly beauty saavy they'll be bringing to this leather lovin' show, then dashing over to Bryant Park to check in at the tents in all their glory. We'll be giving you a bird's eye view from within, checking in with all the sponsors before heading to the Ports 1961 show. Boudoir D'Huitres, by former Rachel Roy designer, Mimi, follows at the Hosfelt Gallery. Finally, we'll be cruising in style via magenta Ford Fiesta to Fashion's Night Out, which we'll begin at Purple Lab's Scoop event, visiting pals from Tod's on Madison, popping in at Bryce Gruber's Luxury Spot party, then wherever the night will take us! We'll be tweeting all the way!
FRIDAY... Ready to bundle up with knits from Twinkle by Wenlan before heading to the Chelsea Art Museum for Parson's Designer of the Year dream team, Cushnie et Ochs, who we'll be sitting down with for an exclusive interview after the show! Then setting out to spend quality time at Generra for Men's, Women's & a ribbon cutting, oh my! Finally ending our night with Kati Stern's Venexiana in Bryant Park.
SATURDAY... Sharing our morning coffee with Custo Barcelona's design team as they give us a preview of their SS10 collection before they take on the Tent Sunday evening, and then getting ready to be wooed by Susan Woo at the Hudson Hotel. Then it's straight over to the Museum of Arts & Design for tailored menswear Bespoken, followed by Karen Walker's "The Village" collection in Chelsea. We'll be chatting with her after the show -- can't get enough of her adorable specs! Then straight back to the tents for Chado Ralph Rucci, and a pow-wow with Vivienne Tam before attending her closing show that evening!
Phew - it's a long week, but we're glad we can get you a front row seat. Follow along via Twitter!