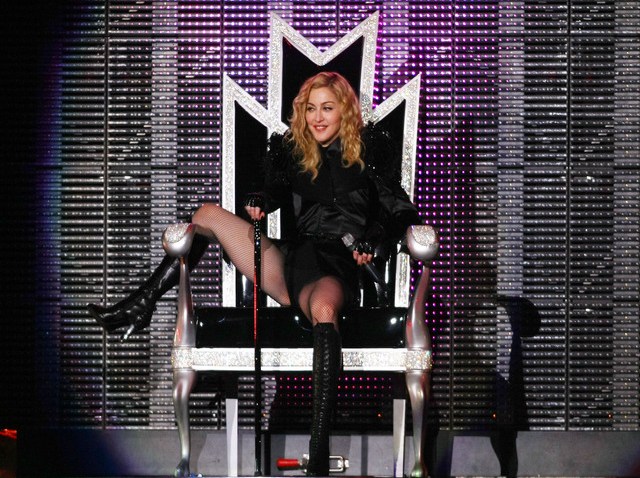 IN VOGUE: So it's London Fashion Week, and while many fashionistas have flocked overseas to check out the latest from Matthew Williamson and Christopher Kane, we're still here trying to coax out our inner-British Madonna. We can't help but envision ourselves playing cricket with Lourdes and tailgating before the fox hunt while "Like a Virgin" blasts through the backyard of her sprawling country estate. Nevertheless, in the slight, minuscule possibility that this fantasy may come true, we feel as though we should come prepared. Thus, we've enlisted in the help of a very classic pair of structured Calfskin Handmade Riding Boots ($998) from Brooks Brothers -- just in case Madonna rings us.

VINTAGE FIENDS: Anna Sheffield, a native New Mexican transplanted in New York, might look like quite the tough pip-squeak, with tattoos on every spot of bare skin she can spare (aside from her endearingly adorable - yet unexpected - face). Being a jewelry designer that makes delicate pieces that seep both sentimental and heirloom value might be an even bigger surprise. Such a juxtaposition has placed her highly coveted collections somewhere in the lighted cases of Barneys NY, but as luck might have it, her capsule collection for Target has just launched, with a similar mindset. Teeny tiny trophy studs and a charmed cuckoo clock ring priced under $50 are such a steal you might as well start making up your elaborate "flea market" back story right now.

HUSSEIN COMES HOME: We remember when Hussein Chalayan's claim to fame was creating lighted knitwear and partnering up with Björk, but today he has certainly made his way into the players game of the already overly saturated luxury market. But he feels no need to forget his humble beginnings, feeling so inspired by film on global warming called "Home," that he created a decoupage style tote featuring some of the world's furriest creatures, donating proceeds to a global warming awareness foundation. Find online for only $70 - so pretentious, that it's not.