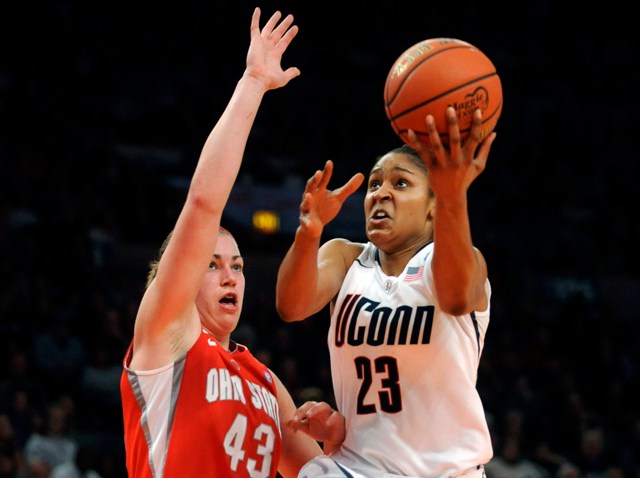 While the UConn's men's team is going through a rough patch, the women have regained the No. 1 ranking, appear to be peaking as they prepare for the postseason, and the nation's best player, senior forward Maya Moore, continues to add to her ever-growing legacy.

The latest bullet point on an already-impressive resume: Academic All-American honors for the third time in her career, and according to the press release, Moore is an "Individualized major with a 3.70 GPA … [and] the first University Division women's basketball player to repeat as Academic All-America of the Year." And that doesn't even scratch the surface of her accomplishments.

More mind-boggling accolades:
A four-year starter who has led UConn to back-to-back undefeated national championships, Moore is the Big East's all-time scoring leader with 2,828 points in 144 career games. During her career, she has led UConn to a remarkable 141-3 record. A three-time All-Big East first team selection, she played a key role in the Huskies' NCAA-record 90-game winning streak that ended in December.

As a senior, she is averaging 23.7 points and 7.8 rebounds per game while guiding No. 1 UConn to a 27-1 record. The third-leading scorer in the nation, she is the 14th-leading scorer in NCAA Division I women's basketball history. In her career, she has scored in double figures in 140 of 144 games to set an NCAA record. Honored as the Big East Player of the Week 11 times, she was named as the Big East Scholar-Athlete of the Year in 2010.
Taken separately, a 3.70 GPA or ungodly basketball skills are wholly deserving of praise. Combine them into one amazing package and it borders on the absurd. For all the stories we hear about the darker side of sports -- and look no further than the recent NCAA issues facing the men's team -- it's refreshing to hear news like this. In fact, college athletic associations and professional sports leagues should devote more energy into publicizing these stories.